Justin's 2014 Mock Draft
Possible Cap Casualties - AFC East Edition
Possible Cap Casualties - NFC East Edition
Possible Cap Casualties - AFC North Edition
2014 projected NFL salary cap: $126.3 million
NFC North:
Chicago Bears
2014 Projected Salary Cap: $120 million
Projected released players:
Julius Peppers (Team Saves $9.8 million)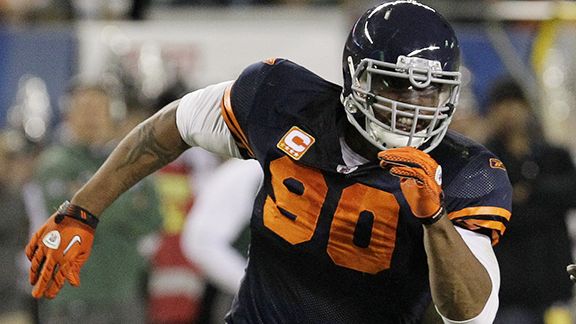 Peppers just turned 34 and is coming off of his worst season since 2007. Chicago is mulling their future with him, but I think it is more likely that they restructure his deal.
Lance Briggs ($5.5 million)
Briggs recently turned 33 and has undergone a steady decline in production. Chicago could look towards the draft to bring in his replacement.
Earl Bennett ($2.5 million)
Bennett has been replaced by Alshon Jeffery on the offense and his numbers have dropped every year since his rookie season. His 7.6 yards per reception was ranked 141st out of 152 eligible receivers.
Detroit Lions
2014 Projected Salary Cap: $131.6 million
Projected released players:
Nate Burleson ($5.5 million)
Burleson turns 33 this summer and isn't worth the high salary he has in Detroit. The Lions need to find a more reliable no. 2 receiver.
Mikel Leshoure ($843 thousand)
Leshoure is frustrated in Detroit, who he has fallen out of favor with. He is expendable following the team's signing of Reggie Bush, but Joique Bell is a free agent so the team may draft another running back as well.
Green Bay Packers
2014 Projected Salary Cap: $111.5 million
Projected released players:

Brad Jones ($2 million)
Green Bay needs help on the interior of their linebacking core, where AJ Hawk is aging and Jones' play has been subpar. Green Bay has been rumored to seek a middle linebacker earlier in the draft.
Jarrett Bush ($1.7 million)
Bush played well when he reverted to the dime role until the playoffs, where his blown assignment allowed Colin Kaepernick to run wild on a third and eight situation that ultimately led to the 49ers win. Bush's salary makes him expendable.
Minnesota Vikings
2014 Projected Salary Cap: $103.5 million
Projected released players:
Matt Cassel ($3.7 million) Minnesota has brought in a new head coach who will likely clean house at quarterback. Cassel's high salary makes him expendable.
Erin Henderson ($2 million)
Henderson has been arrested twice since November for DUI. New head coach Mike Zimmer may look to make a statement about responsibility by releasing him.
John Carlson ($2 million)
Carlson is not the team's feature tight end and is making a high salary at the team's no. 2. Kyle Rudolph makes him expendable.