Justin's 2014 Mock Draft
Possible Cap Casualties - AFC East Edition
Possible Cap Casualties - NFC East Edition
Possible Cap Casualties - AFC North Edition
Possible Cap Casualties - NFC North Edition
2014 projected NFL salary cap: $126.3 million
AFC South:
Houston Texans
2014 Projected Salary Cap: $125.8 million
Projected released players:
Matt Schaub (Team saves $4 million)
Schaub is done in Houston. The fans pretty much ran him out of town when they arrived at his house during the season to ridicule him for his poor play. New head coach Bill O'Brien will likely use the team's first overall pick on a quarterback.
Brice McCain ($850 thousand)
McCain doesn't make much of an impact in the Texans secondary. Houston can find similar production in the draft at a cheaper price.
Indianapolis Colts
2014 Projected Salary Cap: $93.9 million
Projected released players:
Cory Redding ($3.5 million)
Redding just turned 33 and is overpaid for his lack of production/ Indianapolis should expect Bjoern Werner to take over Redding's role next season.
Darius Butler ($2.5 million)
Butler has been too inconsistent of a player for the Colts to pay him as much as they do.
Jacksonville Jaguars
2014 Projected Salary Cap: $95.3 million
Projected released players:
Jason Babin ($6.2 million)
Babin is long removed from the 2010-11 stretch where he notched 30.5 sacks. He can still provide a pass rush threat, but not at the salary he is commanding. Babin turns 34 in May.
Roy Miller ($2.7 million)
Miller is coming off of back-to-back poor seasons and could be replaced this spring.
Tennessee Titans
2014 Projected Salary Cap: $127.9 million
Projected released players:
Chris Johnson ($4 million)
After Johnson's 2,000 yard campaign in 2009, he regressed into an average back who became way overpaid. Now the team needs to create some cap room and he will likely not return.
Kamerion Wimbley ($2.4 million)
Wimbley's sack totals have decreased in each of the past four seasons and Tennessee is moving to a 3-4 scheme.
David Stewart ($6.4 million)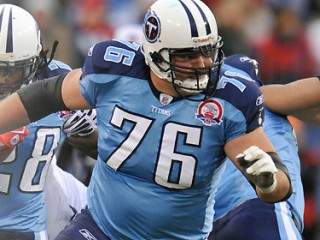 Stewart turns 32 this August and has become a major topic of discussion for release. Though he has regressed, he is still a talented right tackle.
Nate Washington ($4.8 million)
Washington will turn 31 this offseason and is not a starting-caliber receiver anymore. Tennessee will likely find his replacement in the draft.