2013 Fan Mock Draft
2013 Justin's Final Mock
Thank you to everyone for reading my mock drafts over the past few months. This is my final mock of the year, please leave comments and any notes you have. I will be updating our Facebook page live from the draft all day so keep checking in. Thanks again!!!!
1) Kansas City Chiefs- Eric Fisher (LT Central Michigan)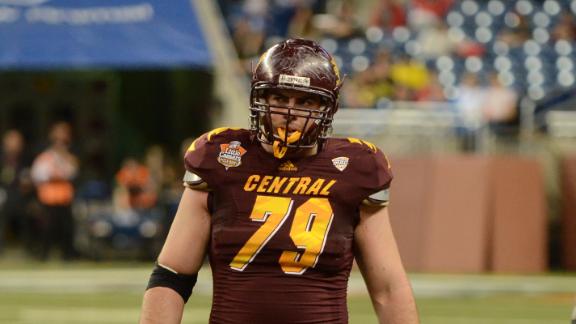 Kansas City has taken every step possible to move forward this season. Adding Fisher will ensure they get a cornerstone starter and eventual Pro-Bowler for years to come.
2) Jacksonville Jaguars- Luke Joeckel (LT Texas A&M)
The Jaguars have a lot of holes all over their roster. Adding the best player in the draft on the offensive line is a huge step in protecting whoever is under center for the Jaguars this year.
The Raiders have a glaring hole at defensive tackle. Floyd has shot up draft boards, due in large to issues with Star Loteleiei. Oakland should take the safe pick, and great 3-4 tackle.
The Eagles will always be looking to add to their defensive front. Dion Jordan has the size and speed to be an elite pass rusher in the NFL. His injury this off-season shouldn't be an issue seeing as he did most of the combine drills.
Detroit can use this pick to help replace departing defensive ends Kyle Vandenbosch and Cliff Avril. Ansah is a unique talent that can be molded to fit exactly into the Lions' system however they'd like.
Once everything is said and done, i do think Milliner will be taken #6 overall, just not by the Browns. Even if they do draft in this spot Milliner will be taken. previous injuries and minor surgeries are making teams shy away, but the best athlete in this years draft will be selected in this spot.
Arizona has made some free agent additions in the off-season. Adding a QB (Carson Palmer) allows them to take a young QB to groom for the future later in the draft. Taking Lane Johnson here ensures that they'll have at least one highly productive pass blocker for Palmer.
This pick is as baffling as any I've ever made. Buffalo wants to let Nassib drop to them in the second round, or trade back into the first to nab him. The only thing stopping them is the Jets who I think are balking by saying they'd take Nassib. Either way, Nassib has a strong arm, and in my opinion is the best QB in this years draft.
The head coach in New York is on the chopping block. If Rex Ryan wants to keep his job, it starts with having a super productive draft. Mingo has speed and a high motor which Ryan should love. He lacks size, but the Jets cannot let a player of his talent and potential slide past them.
I could still see Chance Warmack going here, even though the Titans signed Andy Levitre. They do however need help on the D-line as well. Loteleilei is a top 5 talent that dropped due to a heart condition. If the Titans see defensive tackle as a top priority then Loteleilei is a steal.
11) San Diego Chargers- Chance Warmack- (G Alabama)
San Diego misses on the opportunity to take one of the elite tackles in this years draft. They still need some help on the offensive line, and Warmack would be the answer. Warmack is rated by many experts as the best offensive lineman in the draft, and might be the most pro-ready.
12) Miami Dolphins- Xavier Rhodes (CB Florida State)
Miami added a slew of free agents this off-season and should be in position to take the best available player on their board. Corner is somewhat of a need for them, and adding Rhodes gives them a physical corner with good hands and NFL speed.
13) New York Jets- Johnathan Cooper (OT North Carolina)
The Jets need to address holes in pretty much every position. Cooper happens to be the best player available and fixes a hole on the line that has been vacant for a while. Cooper has great footwork and the frame to add weight and be an elite guard.
14) Carolina Panthers- Sheldon Richardson (DT Missouri)
The Panthers need to put someone on their line to absorb blocks and keep Luke Kuechly free to make plays in the run game. Richardson could have been a top 10 pick, but trades and rumors will drop a great player right outside the top 10.
15) New Orleans Saints- Sylvester Williams (DT North Carolina)
The Saints need a force in the front lines and have been missing one for quite a while. They have been terrible on defense and it starts on the line. Williams may not be an every down player early in his career but he can eventually tailor himself to be a wrecking ball for the Saints.
16) St. Louis Rams- Tavon Austin (WR West Virginia)
I'm doing this because I don't think the Rams want to take the chance of trying to get Austin at 22 and having another team nab him. Bradford needs more weapons and Austin is weapon X. I still think Vaccaro is a better option but coach Fisher might see talent later in the draft.
17) Pittsburgh Steelers- Jarvis Jones (OLB Georgia)
The Steelers have always had an elite pass rush and defense. Jones would potentially fill the gap the the Steelers have from letting James Harrison walk. Jones has issues with his back, but Pittsburgh won't pass up on the best pass rusher, and potentially the best player in this years draft.
18) Dallas Cowboys- DJ Fluker (OT Alabama)
Dallas is getting older and adding young players pretty much anywhere should be welcome. Dallas did re-sign most of their offensive line, but Fluker may be able to play his way onto the field his rookie year.
19) New York Giants- Bjoern Werner (DE Florida State)
New York is unusually thin at pass rusher this off season. At one point Werner was a top 5 pick in my mocks, but other players have shone through and passed him. Good thing for the Giants the depth in the years draft at pass rusher is very deep. Werner should step in and make an immediate splash for the Giants.
20) Chicago Bears- Alec Ogletree (LB Georgia)
Chicago has been known for their smash mouth linebackers and its no coincidence they add another this year. Urlacher is gone and Briggs is aging. They need to start adding young players in the box and Ogletree is the best inside linebacker in the draft.
21) Cincinnati Bengals- DeAndre Hopkins (WR Clemson)
The Bengals should look to add weapons to surround Andy Dalton. Hopkins has speed and amazing hands and would fit perfectly into the slot and return game for Cincy. By adding him they should be able to take pressure off AJ Green as well.
22) St. Louis Rams- Kenny Vaccaro (S Texas)
The Rams plan works and Vaccaro slips to them. Vaccaro is a unique talent and ball hawk at safety. The Rams need to add a safety to improve a pass defense that struggled on deep balls last year. Vaccaro was amazing playing center field for Texas and should continue that for the Rams
23) Minnesota Vikings- Keenan Allen (WR California)
Minnesota lost Percy Harvin to Seattle, but gained a first round pick out of it. Using one of their picks on Harvins replacement is a no brainer. Allen can step in and automatically be a great number two receiver for the Vikings.
24) Indianapolis- Melenik Watson (OT Florida State)
The Colts have some gaps to fill with departures on defense, but should look to help protect their franchise QB Andrew Luck. Watson might be a bit of a reach, but he can play on the right side while adjusting to the NFL, making an eventual shift to the blind side for Luck.
25) Minnesota Vikings- Manti Te'o (LB Notre Dame)
Te'o shot himself back into the first round after his pro day. He can pair well with Greenway in Minnesota if he isn't leaned too heavy on in run stopping. He has above average coverage skills which should keep him on the field for passing situations.
26) Green Bay Packers- Matt Elam (S Florida)
With the departure of Charles Woodson the Packers will have to address the secondary. Elam is the best player available to fit the team needs.
27) Houston Texans- Kevin Minter (LB LSU)
The Texans haven't had much productivity from the inside linebacker position, with Cushing getting injured and playing a majority of his career at outside linebacker. Minter can pair up with Cushing inside, or push Cushing back outside solidifying their linebacking core for the next few years.
28) Denver Broncos- Damontre Moore (DE Texas A&M)
Moore has seen his stock drop dramatically since the end of the season. Denver can't pass up on his size and potential.
29) New England Patriots- Jonathan Hankins (DT Ohio State)
New England needs a young tackle to eventually replace aging Vince Wilfork. Hankins can help by rotating in to spell Wilfork while learning from one of the best in recent memory.
30) Atlanta Falcons- Datone Jones (DE UCLA)
After making huge moves to free up cap space, Atlanta's pass rush looks weak. Many could argue the Falcons need a running back, but there's no back worth taking before a pass rusher here. They can find John Abraham's replacement by drafting Jones.
31) San Francisco 49ers- Jesse Williams (DT Alabama)
Williams is a freak athlete who will be welcome in San Fransisco. He is quick for his size and may be able to play inside and outside on the defensive line. His versatility should make him a weapon for the 49ers.
32) Baltimore Ravens- Eric Reid (S LSU)
With Ed Reed gone in Baltimore it only makes sense to replace him with someone who is drawing comparison to the Pro Bowler. Reid has speed and good vision in the secondary. Baltimore needs to address safety and linebacker this year, but can get more value in the front seven later in the draft.