By Justin Worsley
The draft order is represented by my preseason projections and is adjusted each week.
1. Oakland Raiders (4-12) - Dre' Kirkpatrick (CB/Alabama)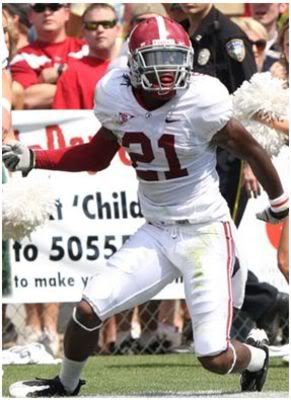 Ryan Fitzpatrick looked like Jim Kelly in the second half against the Raiders. Their defense is awful.
Oakland needs to replace Nnamdi Asomugha and Dre' Kirkpatrick is one of the best defensive back available this off-season. He also fits the typical Al Davis mold (6'3, 195 lbs.)
Of course, Andrew Luck is a possibility, but the team seems very invested in Terrelle Pryor, so for now I won't mock him here.
Offensive line is also an area of need, but would Al Davis really use the first overall pick on someone who doesn't play a skill position? He has before in the first round, but with this high of a pick, you can bet that won't be the situation.
2. Carolina Panthers (4-12) - Alshon Jeffery (WR/South Carolina)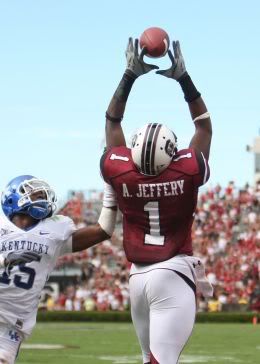 Cam Newton has taken the NFL by storm, but the Panthers still can't win. Perhaps improving a group of no-name receivers will help.
Steve Smith is aging and looks like a shell of his former self. Providing Newton with a true no.1 receiver will give Carolina a scary offense if Newton continues to play well.
Jeffrey is a hometown product and will provide a huge boost for the Panthers. Last season, Jeffrey caught 88 passes for 1,517 yards and nine touchdowns as a finalist for the Biletnikoff Award. At 6'4", 235 lbs. Jeffrey is a physical freak.
3. Tennessee Titans (5-11) - Justin Blackmon (WR/Oklahoma State)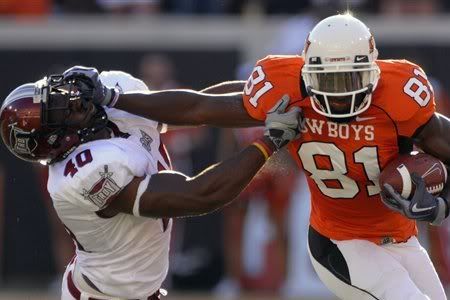 Had Blackmon declared last season, he could have been a top-five pick. Last year, Blackmon had the difficult task of replacing Dez Bryant in Oklahoma State's line-up and seamlessly took over, winning the Biletnikoff Award in the process.
The Titans need another receiver to line up across from Kenny Britt. With Blackmon, Britt and Chris Johnson, Jake Locker could have an offensive advantage that was never given to Vince Young
4. Buffalo Bills (5-11) - Quinton Coples (DE/North Carolina)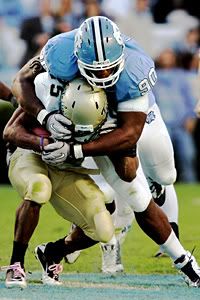 Given the way Ryan Fitzpatrock has been playing, Ralph Wilson may avoid picking Andrew Luck, something that may be a huge mistake, but not something that is generally surprising, considering his recent draft history with quarterbacks.
Buffalo seriously needs to upgrade their defensive line. Aaron Maybin was given up on after two sackless seasons and so far, Buffalo has only gotten to the quarterback twice.
Last season, Coples was named to the all-ACC team after having a 10 sack season
5. Cincinnati Bengals (5-11) - Matt Kalil (OT/USC)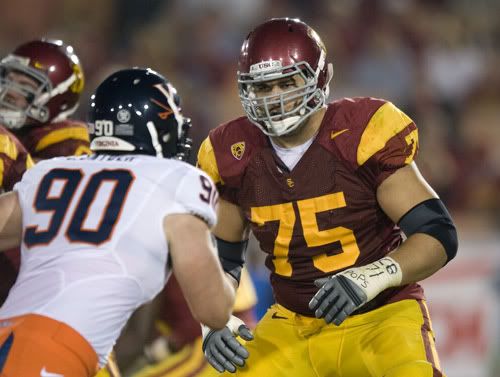 Andrew Luck is a possibility, but would the Bengals really give up on Andy Dalton after one season? After seeing how Mike Brown operates, I doubt it.
Offensive line, however, is a concern for the Bengals. Andre Smith finally reported to camp in shape this off-season, but he has had an injury-riddled career thus far in the league. Anthony Collins is a free agent.
Kalil, the younger brother of Carolina's Ryan Kalil, is a major reason why Tyron Smith was stuck at right tackle in college. USC has surrendered only two sacks so far this season.
6. Cleveland Browns (5-11) - Vontaze Burfict (MLB/Arizona State)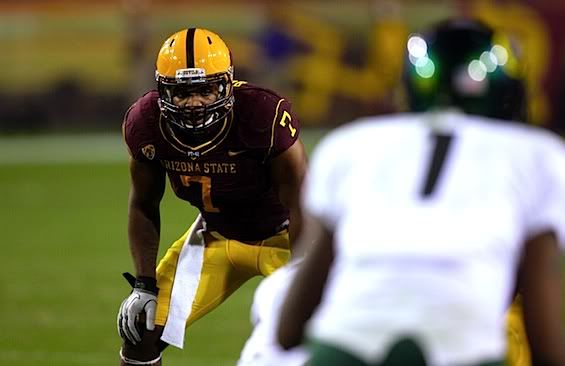 Cleveland has many needs on defense, especially in the front seven. They looked good against Indianapolis, but everyone is at the moment.
Burfict had 90 tackles (8.5 for a loss) and two forced fumbles last season during an All-American campaign. He does, however, draw a high number of personal foul penalties.
7. Miami Dolphins (5-11) - Andrew Luck (QB/Stanford)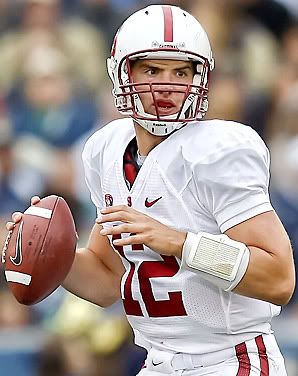 Did hell freeze over? Because, in this mock draft, Andrew Luck has somehow slipped to seventh overall.
The previous six teams had some sort of situation at quarterback, which prevented Luck from being drafted.
Miami is getting a huge steal here. Chad Henne has no running game and Brandon Marshall has never developed a chemistry with Henne.
Luck, the consensus best player available, is the frontrunner for the Heisman Trophy this season.
8. Detroit Lions (6-10) - Jonathan Martin (OT/Stanford)
If Detroit keeps destroying teams the way they are this season, they will be picking much higher than eighth overall, but the biggest part of that success depends on whether or not their offensive line can protect the right shoulder of Matt Stafford.
In his first two seasons, Detroit has been unsuccessful in protecting Stafford, forcing him to miss 20 of his first 32 career games. SO far, the Lions have not made any changes to their line.
The Lions like to draft the best player available and if they follow suit, Jonathan Martin will be their pick. Martin has blocked admirably for Andrew Luck in college and will be an immediate contributor to any team.
9. San Francisco 49ers (6-10) - Matt Barkley (QB/USC)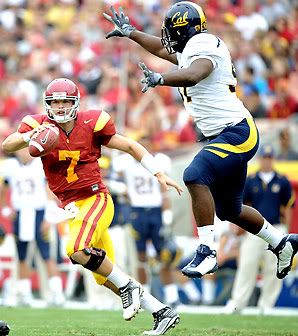 Jim Harbaugh would've loved to have Miami's pick, but that just isn't the case in this draft. Barkley, however, isn't that bad of a consolation prize. Not to mention, Harbaugh has seen Barkley live twice, so he has a better idea of him as a quarterback than Landry Jones.
Alex Smith is out of chances in San Francisco. If the 49ers finish with a top 10 draft pick again, I'd be surprised if Smith even found a job in 2012.
Barkley is only a junior this season, so there is a chance he will remain at school, something that may appeal to him since USC will be post-season eligible next year. So far this season, Barkley has completed 69-percent of his passes for 892 yards with nine touchdowns and only one interception.
10. Denver Broncos (6-10) – Jerel Worthy (DT/Michigan State)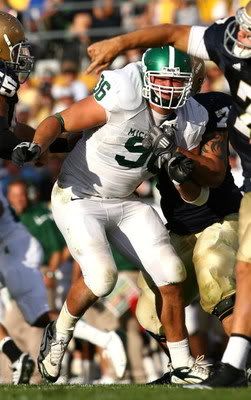 Denver cut practically all of their defensive tackles during the summer and are now relying on journeyman Kevin Vickerson and undrafted rookies Ronnell Brown and Colby Whitlock to anchor the defensive line. Clearly, this is an area of need.
Worthy can fit anywhere in the 10-20 range of this draft, but if Denver has this pick, he has to be the best player available on their board.
Worthy, who many scout compare to last year's first round draft pick Corey Liuget, has the explosiveness and athleticism to play in the NFL, but is still considered a work in progress.
11. Kansas City Chiefs (6-10) – Landry Jones (QB/Oklahoma)
The Chiefs benefited from having a soft schedule last season and found their way into the playoffs. This year, however, Charlie Weis has left and three starters are out for the season, including running back Jamaal Charles and safety Eric Berry.
The Matt Cassel experiment is also failing in Kansas City. So far this season, Cassel has passed for a pedestrian 252 yards with one touchdown and four interceptions. He still has three years remaining on his contract, but don't be surprised if Kansas City cuts ties with him, especially if Jones is available.
Jones is another Heisman Trophy contender and a big reason why Oklahoma is the top-ranked team in the nation. Last year, Jones passed for 4,718 yards with 38 touchdowns and 12 interceptions, all with a 65.8 completion percentage.
12. Seattle Seahawks (6-10) – Stephon Gilmore (CB/South Carolina)
Former CFL player Brandon Browner is currently a starting cornerback in Seattle, making the need to upgrade at this position imperative.
Quarterback is also a major option here, but since the top three quarterbacks are already gone, the Seahawks need to address their next biggest need. Gilmore is also the best player available, so this pick make sense for them.
Gilmore is a multi-dimensional player who has the speed to keep up with NFL wide receivers
13. Jacksonville Jaguars (7-9) – Morris Claiborne (CB/LSU)
Last year, LSU has Patrick Peterson shutting down half of the field. Morris Claiborne has followed suit and opponents are having a very difficult time passing against the Tigers.
Rashean Mathis is on the downside of his career, and will be a 32-year-old free agent this off-season. With a plethora of cornerbacks available, Jacksonville doesn't need to go out of their way to re-sign him.
14. Washington Redskins (7-9) – Trent Richardson (RB/Alabama)
Mike Shannahan has made a career out of taking late draft pick running backs and making them stars, but considering that their current running back is Tim Hightower, now would be a good time to change that approach.
Richardson, finally out of the shadows of Mark Ingram, has emerged, rushing for 315 yards and eight touchdowns on only 50 attempts. Wow.
15. Indianapolis Colts (7-9) – Riley Reiff (OT/Iowa)
Considering how the Colts are performing so far this season, don't be surprised if they have a higher pick than this.
Their offensive line has already allowed five sacks and 14 quarterback hits.; If defenses keep putting pressure on the Colts, Kerry Collins may be in a wheelchair before Halloween.
Anthony Castonzo was drafted last year, however, don't be surprised if Indianapolis double-dips at this position. Especially now considering the severity of Peyton Manning's injury.
16. Minnesota Vikings (7-9) - Luke Keuchly (MLB/Boston College)
E.J. Henderson has done a phenomenal job emerging from a career that seemed to be doomed early with injuries, but he will be 32 this off-season and a free agent. Minnesota needs to replace him.
Keuchly is a defensive captain for Boston College and a force against the run. Last season, he was a unanimous All-American selection.
17. Arizona Cardinals (7-9) – Donte Paige-Moss (DE/OLB/North Carolina)
Last year, the focus of the Cardinals was on the loss of Kurt Warner and how the offense wasn't able to function without him. What everyone seemed to miss was how their defensive captain left the team as well.
Karlos Dansby signed with Miami as a free agent last year and the team never replaced him. Upgrading their pass rush will be a necessity this off-season, especially with the emergence of Sam Bradford.
Paige-Moss has had a slow start so far this season, with only five tackles and one sack, but he has also spent much of the season being double-teamed on pass downs.
18. New York Giants (8-8) - Manti Te'o (MLB/Notre Dame)
It seems like every year the Giants need to improve at linebacker and the team just refuses to make any changes. Considering that the team's defense is getting destroyed with injuries, that may change.
Te'o has 26 tackles and a sack for the Fighting Irish so far this season.
19. Chicago Bears (9-7) – Michael Brewster (C/Ohio State)
Olin Kreutz has been a leader of the Bears for nearly a decade now, so it will be hard to replace him. Considering how horrible the Bears offensive line has looked so far, it looks like they will be taking an offensive lineman with their top pick for the second straight year.
Brewster is a three-year starter for the Buckeyes is the consensus best center available.
20. Dallas Cowboys (9-7) – Janoris Jenkins (CB/North Alabama)
Jenkins made a name for himself at Florida, where he shut down top-flight receivers like A.J. Green. The problem, however, was he had plenty of off-field issues as well. After announcing that he would skip the NFL Draft last year and return to Florida, he was kicked off the team for his second drug-related arrest.
He is now enrolled at FCS school North Alabama and hoping to rehab his image. His stock could plummet, but he is definitely a first-round talent.
21. Tampa Bay Buccaneers (10-6) – Alfonzo Dennard (CB/Nebraska)
As great as Prince Amukamara was last season for the Cornhuskers, Dennard looked just as good. The tandem was a big reason why Jake Locker went a combined 9/36 with 127 passing yards and one touchdown and two interceptions in two games. Not bad considering that Locker was a top-10 draft pick last April.
Tampa Bay had a need at cornerback. Ronde Barber is aging and Aqib Talib can't stay out of trouble.
22. St. Louis Rams (8-8) – Michael Floyd (WR/Notre Dame)
The Rams need to provide Sam Bradford with a true no. 1 receiver. Donnie Avery and Mike Sims-Walker cannot be long-term solutions.
Floyd has had a fair share of legal issues and was suspended by Notre Dame for a period of time, but he is a dominant receiver and could provide a huge boost for St. Louis' offense.
23. Houston Texans (10-6) – Brandon Jenkins (DE/OLB/Florida State)
The pass defense finally looks good and Mario Williams is having a monster year so far as an outside linebacker. The Texans, however, need an upgrade over Connor Barwin.
Jenkins is a hybrid defensive end or linebacker who can put pressure on the quarterback, but is also stout against the run. Houston's defense could become even scarier than their offense in years to come.
24. San Diego Chargers (12-4) – Bruce Irvin (DE/OLB/West Virginia)
Once upon a time, San Diego had a strong core of linebackers and were able to continually pressure the quarterback. Since then, Shawne Merriman was shown the door and Larry English has been a bust of s first-round pick. If San Diego wants to continue to dominate the AFC West, they will need to upgrade here.
Irvin had 14 sacks and a forced fumble last season.
25. New York Jets (10-6) – Courtney Upshaw (DE/OLB/Alabama)
Opposing offenses may have a plan against the Jets this year. Rex Ryan was exploited often last year with the lack of quality pass rushers as he blitzed nearly every down. If the Jets want to get over the hump of the AFC Championship, upgrading the pass rush is a must.
Upshaw will be an immediate upgrade for a Jets pass rush that has finally severed ties with Vernon Gholston.
26. Green Bay Packers (10-6) – Brandon Thompson (DT/Clemson)
Cullen Jenkins left Green Bay to join the Eagles and now only have journeyman Howard Green to spell B.J. Raji.
Thompson will help solidify the Packers defensive line and he is able to line up at both end or tackle. Green Bay is a hard team to mock, since they have very few glaring needs.
27. New England Patriots (14-2) – Zach Brown (OLB/North Carolina)
New England acquires this pick via the trade last year with New Orleans.
New England will most likely trade this pick away, but I'm not going to sit here and predict who is going to take the bait and grab this pick.
New England desperately needs to upgrade the pass rush, which ironically is not something Zach Brown does well. At 6'3" 235 lbs. Brown is more of a cover linebacker. Regardless, the Patriots have two picks in this round and linebacker is a need as well. He does have 2.5 sacks so far this season though.
28. New England Patriots (14-2) – David DeCastro (G/Stanford)
Along with their need to upgrade the pass rush, the Patriots are also re-tooling their offensive line.
Nate Solder was their top pick last season, but the team isn't finished with the changes. New England always goes with the best talent available and with the top defensive lineman gone, they will shift their focus on the line.
29. Pittsburgh Steelers (12-4) - Alameda Ta'amu (NT/Washington)
Casey Hampton is 34 and Pittsburgh needs to integrate a new nose tackle to replace him within the next 2-3 years.
Ta'amu is bigger than Hampton and is a force right now for the Huskies. Nebraska got most of their yards against Washington last week by running outside, avoiding Ta'amu.
30. Cleveland Browns (5-11) – LaMichael James (RB/Oregon)
Cleveland acquired this pick from Atlanta via the Julio Jones trade.
Peyton Hillis is going to be worn out unless Cleveland adds a bit of flash into their backfield. James has clocked in at 4.32 in the 40-yard dash and will give the Browns another dimension along with the bruising style of Hillis.
Many see James slipping into the second round, but with Knile Davis being out for the year, James could sneak into a late first round selection.
31. Baltimore Ravens (11-5) – Jared Crick (DE/Nebraska)
One of the reasons Ndamukong Suh was so successful in college is because teams were unable to double-team him with the presence of Crick.
Haloti Ngata, Brandon McKinney and Corey Redding are all free agents in 2012, so Baltimore will need to replace at least one of them.
32. Philadelphia Eagles (11-5) – Andrew Datko (OT/Florida State)
The Eagles invested way too much money into Michael Vick to simply allow him to get slaughtered due to a subpar offensive line. In last Sunday's game against Atlanta, Vick suffered a concussion in a freak play. I will remind everyone now that Vick has only played a full NFL season once in his career.
Datko is the top tackle available at this spot of the draft and fills an obvious need for the Eagles.