1. Indianapolis Colts (2-14) - Andrew Luck (QB/Stanford)
The Colts selecting Andrew Luck was all but official when the team started the season off 0-13. The only questions was, what would happen to Peyton Manning? Now that Manning has left Indianapolis for Denver, the Colts will focus on rebuilding their franchise with Luck.
Baylor quarterback Robert Griffin III will get some consideration here, but in the end Luck should and will be the pick.
2. Washington Redskins (5-11) - Robert Griffin III (QB/Baylor)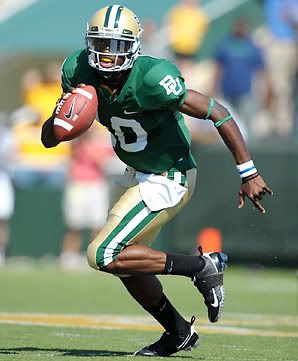 Washington traded three first-round draft picks to St. Louis in order to acquire the second overall selection and they did not make the trade to draft any other player other than a quarterback.
Griffin was phenomenal for Baylor last season, completing 72.4% of his passes to go along with 37 touchdowns and six interceptions. His offensive line was not among the elite either, allowing 27 sacks last season.
3. Minnesota Vikings (3-13) 0 Matt Kalil (OT/USC)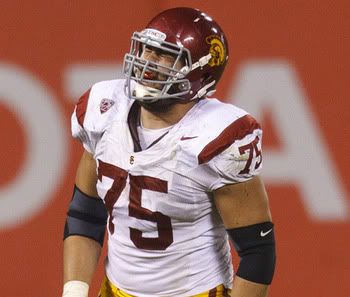 Minnesota has been under the radar as a potential team to trade down in this draft. I think this is a bad move for Minnesota considering how badly they need a left tackle and how good Kalil is.
The Vikings began the 2011 season by releasing long-time left tackle Bryant McKinnie and it resulted in Minnesota going from 18th in the league in sacks allowed in 2010 to 28th last season. If Minnesota wants quarterback Christian Ponder to be successful in the NFL, a quality left tackle is necessary.
Kalil was a part of an offensive line that allowed quarterback Matt Barkley to be sacked just nine times last season.
4. Cleveland Browns (4-12) Trent Richardson (RB/Alabama)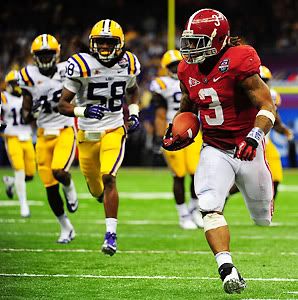 Ryan Tannehill is an interesting subject here, but I can't see Cleveland abandoning Colt McCoy until they at least give him some weapons on offense.
Peyton Hillis was a monumental bust, as expected, last year and the Browns were smart to not give him an extension. The team, however, has no options at running back.
Trent Richardson finally emerged from Mark Ingram's shadow and dominated the SEC last season, averaging 5.9 yards per carry to go along with 21 touchdowns.
Wide receiver Justin Blackmon is also an option, but there is more depth in this year's draft at receiver than running back. Richardsonshould be the pick.
5. Tampa Bay Buccaneers (4-12) - Morris Claiborne (CB/LSU)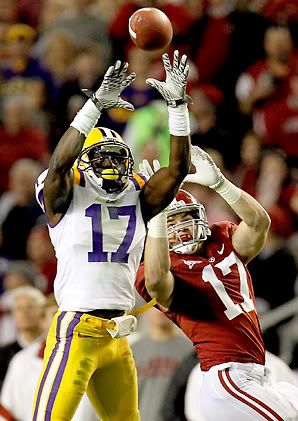 In a division that features Drew Brees, Matt Ryan and Cam Newton, it is imperative to have a good secondary. Tampa Bay at the moment, is lacking this.
Ronde Barber is 37 and will most likely be converted to safety soon. Aqib Talib could possibly be in jail this season and the Bucs are currently trying to trade him.
The team also signed Eric Wright, but he isn't enough to help the team stop the aerial show that is the NFC South.
Claiborne is the top cornerback available and could go as high as third overall. If Claiborne is not available, expect the Bucs to take Trent Richardson instead.
6. St. Louis Rams (2-14) - Justin Blackmon (WR/Oklahoma State)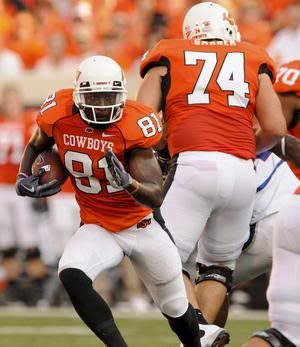 Trading away the second overall pick was a smart move for the Rams. One of they players they were targeting could still be available and they will now have two first-round picks for the next two years as well.
Sam Bradford regressed last season due in part to the lack of production by his wide receivers. His only reliable target, midseason pickup Brandon Lloyd, bolted St. Louis for New England.
Blackmon is far and away the top wide receiver available. Last year, Blackmon caught 121 passes, 18 of which were in the end zone.
7. Arizona Cardinals (8-8) - Riley Reiff (OT/Iowa)
I pretty much never project trades, but Jacksonville rarely stands pat in the first round and the top players available at the moment do not really match their needs.
Arizona, on the other hand, needs to upgrade their offensive line. The Cardinals invested $65 million into Kolb, and they are going to need to protect him if they want him to last more than nine games a year.
8. Miami Dolphins (6-10) - Ryan Tannehill (QB/Texas A&M)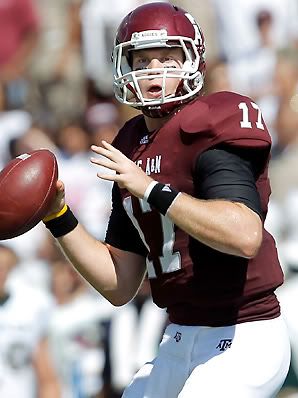 Poor Miami, they were the first team eliminated from the Peyton Manning sweepstakes, Matt Flynn, who seemed likely to go to the Dolphins due to his relationship with Joe Philbin, spurned them for Seattle and the won too many meaningless games late in the season to be able to draft Luck or Griffin.
Regardless, the Dolphins will need to get their franchise quarterback here. It is astonishing that Miami has gone 29 years without spending a first round pick on a quarterback.
If Miami is unable to take Tannehill (which means either Cleveland bit the bullet or somebody traded up) expect them to explore options at either defensive end (Melvin Ingram) or right tackle (Riley Reiff or Jonathan Martin.)
9. Carolina Panthers (6-10) - Stephon Gilmore (CB/South Carolina)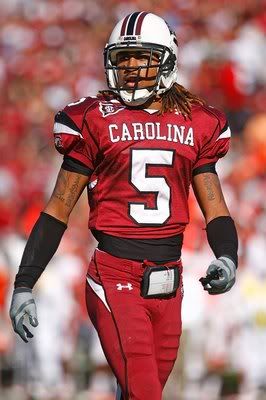 I have had Quinton Coples mocked her for quite a while considering the Panthers penchant for taking local players, but it seems another Carolina player has emerged as the apple of Jerry Richardson's eye.
Gilmore started the year off as one of the top corners but fell during the season to a late first round/early second-round prospect. After a strong combine, however, it appears doubtful that he will go undrafted on opening night.
While Gilmore may not be the second-highest rated cornerback in this year's draft, he does not come with baggage, which can't be said about Alabama's Dre Kirkpatrick or North Alabama's Janoris Jenkins.
If Carolina does decide instead to improve their interior defensive line, Fletcher Cox or Dontari Poe could also be picked here.
10. Buffalo Bills (6-10) - Jonathan Martin (OT/Stanford)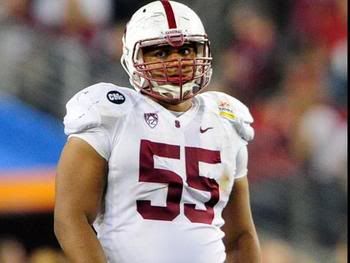 This pick was ultimately going to go between finding a left tackle or improving their pass rush. But after signing Mario Williams and allowing incumbent LT "Demetress" Bell to sign with the Eagles, it should be obvious where Buffalo goes in the draft.
Martin struggled late in the season, but he was still a key part to the success of Andrew Luck, anchoring an offensive line that allowed just 11 sacks all year.
11. Kansas City Chiefs (7-9) - Dontari Poe (NT/Memphis)
Kansas City desperately needs to upgrade their nosetackle. Conveniently , Poe had a monster combine, including a 40-yard dash of 4.86 seconds. Pretty impressive, considering the guy weighs 350 pounds.
Stanford guard David Decastro is another option here as well and it would not be surprising if Kansas City does go with him instead. The Chiefs could also look into upgrading their pass rush by drafting Melvin Ingram.
12. Seattle Seahawks (7-9) - Melvin Ingram (DE/South Carolina)
Seattle finished the season among the worst in the league at getting to the quarterback, only amassing 33 sacks on the year. If the Seahawks want to upend the 49ers, they will need to be able to get to Alex Smith.
Ingram is one of the most athletic people in this draft class. Along with his 10 sacks, he also picked off a pair of passes and is the the Gamecocks hands team.
13. Jacksonville Jaguars (5-11) - Michael Floyd (WR/Notre Dame)
If Jacksonville wants Blaine Gabbert to succeed in the NFL, they need to provide him with better offensive weapons on the field. than Mike Thomas and Jason Hill.
Floyd caught 100 passes for Notre Dame last year, including nine for a touchdown.
14. Dallas Cowboys (8-8) - David Decastro (G/Stanford)
Dallas needed to upgrade their exterior offensive line last year and did so by drafting Tyron Smith. This year, they will need to address their interior line.
While center is the biggest need on the line, Decastro has the potential to become an elite guard in the NFL and has drawn comparisons to Steve Hutchinson.
If Dallas does not address their offensive line, either Dre Kirkpatrick or Janoris Jenkins could be picked here as well.
15. Philadelphia Eagles (8-8) - Fletcher Cox (DT/Mississippi State)
Philadelphia needs to upgrade their front seven and they did so last month by trading with Houston for DeMeco Ryans. With the linebacker situation addressed, they will now need to bring in a new defensive tackle.
Cox was not only a force at stuffing the run for Mississippi State last year, but he was also able to put pressure on the opposing quarterback, tacking on five sacks.
16. New York Jets (8-8) - Courtney Upshaw (DE/Alabama)
The Jets amassed just 35 sacks last year, a much lower figure than they want. If Rex Ryan wants to replicate the success of the defense he had with Baltimore he will need to add an edge rusher.
Courtney Upshaw will most likely play outside linebacker in a 3-4 scheme despite his height (6'2") despite this, he has the frame for an outside linebacker and had 9.5 sacks for Alabama last year despite missing a game.
17. Cincinnati Bengals (9-7) - Dre Kirkpatrick (CB/Alabama)
The Bengals are in dire need to upgrade their secondary. Top cornerback Leon Hall won't be ready when the season starts due to an achilles injury. Nate Clements was inconsistent last year and recently signed Terrence Newman is 33 and coming off of his worst season in the NFL.
Kirkpatrick could make the argument that he is the top cornerback available in the draft, but a marijuana bust in January harmed his stock (though the charges were dropped a month later.)
18. San Diego Chargers (8-8) - Whitney Mercilus (DE/Illinois)
No member of the Chargers registered more than four sacks last year. On top of that, the team failed to affress this need in free agency. They will most likely look into upgrading the position in the draft.
Mercilus went on a tear for Illinois last year, registering 16 sacks. Only two teams were able to keep him out of the backfield.
19. Chicago bears (8-8) Luke Kuechly (LB/Boston College)
Brian Urlacher turns 34 next month. That being said, the team should start looking for his replacement and begin grooming him.
Kuechly, much like Urlacher, is a team leader and an all-around linebacker. Last season, Kurchly walked away with the Bronko Nagurski Award for the nation's top defensive player.
20. Tennessee Titans (9-7) - Cordy Glenn (G/Georgia)
If the Titans want Chris Johnson to return to his 2009 form, they need to imrpove their interior offensive line. The teamsigned Steve Hutchinson during the offseason, but they still need help across form him.
If Glenn is not selected here, Tennessee could also look at adding a defensive end, whether is be Quinton Coples or Nick Perry, or a cornerback (Janoris Jenkins.)
21. Cincinnati Bengals (9-7) - Quinton Coples (DE/North Carolina)
After taking Kirkpatrick with their first pick, the Bengals will look at bolstering their defensive line with their second pick, where the team lacks depth.
Coples was at one time a top-ten pick, but after he admitted at the combine to not always giving a full effort, his stock should fall.
22. Cleveland Browns (4-12) - Kendall Wright (WR/Baylor)
Cleveland added a running back earlier in the draft,now they will need to give Colt McCoy someone to throw to.
Josh Cribbs is a great kick returner, but not much of a wide receiver and Mohammed Massoquoi is not a no. 1 receiver.
Wright, who can also double as a punt returner, was Robert Griffin III's top receiver. Wright caught 108 passes with 14 touchdowns, but more importantly, averaged 15.4 yards per reception.
23. Detroit Lions (10-6) - Janoris Jenkins (CB/North Alabama)
Janoris Jenkins is clearly talented, but his off-field activity got him booted out of Florida. As a result, he had to spend last season playing for North Alabama. He seems to have gotten his act together and could rise to a top-15 selection.
Detroit gave up 3,881 passing yards last year as well as 26 touchdowns through the air. The team also clearly does not mind taking players with character issues. Jenkins could be a steal for Detroit.
24. Pittsburgh Steelers - Dont'a Hightower (LB/Alabama)
Pittsburgh recently released 37-year-old James Farrior, Larry Foote is 31 and James Harrison is 33. The Steelers also have a penchant for taking linebackers early in the draft
Hightower bounced back from a sub-par sophomore campaign where he replaced Rolando McClain to a stellar junior year where he was one of the leader on Alabama's defense.
25. Denver Broncos (8-8) - Michael Brockers (DT/LSU)
Denver made the biggest move this offseason, signing Peyton Manning and shipping fan-favorite Tim Tebow away to the Jets.
What Denver did not fix, however, is the interior defensive line. Three of the four defensive tackles in Denver went undrafted (two of which were rookies in 2011) and another was a seventh-round draft pick.
Brockers was a top-15 draft pick when he declared, but his combine (along with Dontari Poe's) slid him down a bit. Still, he is a force against the run and can make a major impact in the NFL.
26. Houston Texans (11-5) - Stephen Hill (WR/Georgia Tech)
Houston has nobody to throw to aside from Andre Johnson. and he spent most of 2011 injured. The Texans will need to get a quality second receiver for Matt Schaub (or T.J. Yates) to throw to.
Hill emerged as a first-round prospect after a big combine. Last season, Hill caught just 28 passes in Georgia Tech's run-focused offense, but was still able to come up with 820 yards (a whopping 29.3 yards per reception) and five touchdowns.
27. New England Patriots (13-3) - Mark Barron (SS/Alabama)
Barron could be selected anywhere between the no. 14 pick and now depending on which team selected where. Luckily for New England, he lasted this long.
Barron is a ball-hawking safety who can blitz on passing downs as well as cover.
28. Green Bay Packers (15-1) - Shea McClellin (LB/Boise State)
Green Bay needs another pass rusher across from Clay Matthews along with other needs in on defense. The Packers only had 29 sacks last year.
McClellin has seven sacks along with a pair of picks for the Broncos last season. If McClellin is not available at this spot, Green bay could reach for a cornerback or select Mark Barron.
29. Baltimore Ravens (12-4) - Mike Adams (OT/Ohio State)
The Ravens signed Bryant McKinnie during the offseason, but he is going to be 33 this year and is not the long-term solution for the Ravens.
Adams can go as high a 22nd overall, but his best fit is with Baltimore. If he is not available, Peter Konz could also be an option.
30. San Francisco 49ers (13-3) - Coby Fleener (TE/Stanford)
No tight end is not a major need for San Francisco, but at this spot, not many available players fit the 49ers needs.
What the 49ers do need, however, is more explosion on the offense. If Stephen Hill was available here, he could be the pick. Otherwise, San Francisco may try to replicate the success of the two tight end system used in New England.
If San Francisco does not take Fleener, Wisconsin guard Kevin Zeitler is also an option.
31. Oakland Raiders (8-8) - Nick Perry (DE/USC)
New England is reportedly interested in trading away their 31st overall pick and Oakland, who does not have a draft pick until round 3 will be desperate to get an early pick. It would be surprising if Oakland forfeited next year's first-round pick to land this one.
Oakland will want to improve their pass rush now that Peyton Manning is in the division. Perry notched 9.5 sacks for USC last season.
32. New York Giants (9-7) - Peter Konz (C/Wisconsin)
With a majority of the Giants offensive line hitting the twilight of their careers, New York will focus on improving this unit.
Peter Konz is versatile enough to play either guard or center, but drafting him will most likely cause incumbent center David Baas to move back to his natural position at guard.
Running back could also be looked at, but there is a steep drop in talent after Trent Richardson. Either Coby Fleener or Dwayne Allen could also be considered since the Giants top two tight ends tore their ACL in the Super Bowl.