Prior to the season, I predict where each team will end up and then modify my mock draft each week during the season based on the results.
1. Cleveland Browns (3-13) - Robert Woods (WR/USC)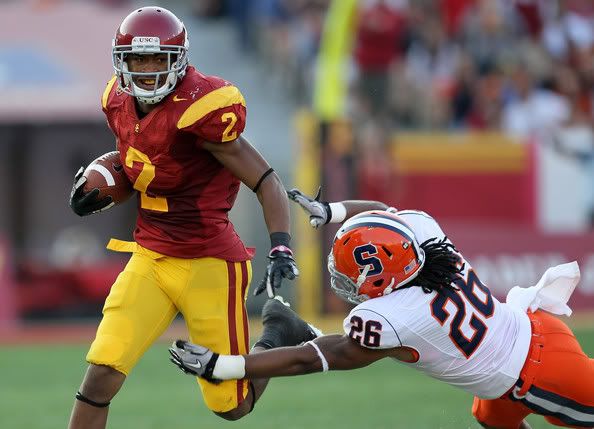 In the end, the Browns decided to instead try to replace Colt McCoy instead of building weapons around him. While Trent Richardson was a smart selection, Brandon Weeden will still have nobody to throw to.
Lucking for Cleveland, Robert Woods is a top-three prospect this year after catching 111 passes for 15 touchdowns last year for the Trojans. If the Browns are picking first overall, wide receiver most likely will not be a lock. They also need to improve their pass rush and Matt Barkley could even be a possibility if Weeden does flop.
2. Buffalo Bills (4-12) - Matt Barkley (QB/USC)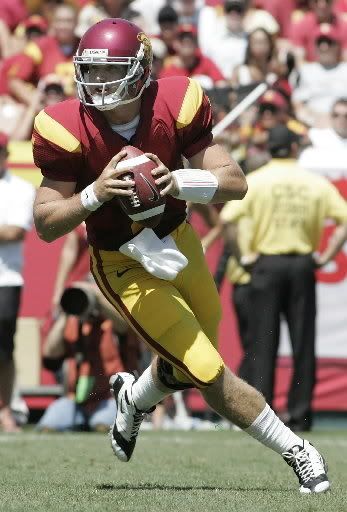 Almost immediately after giving Ryan Fitzpatrick a six-year extension, the Bills seem to have regretted the decision. If they are picking this high in the 2013 Draft, they will get rid of him.
Barkley can easily go first overall and he probably would have been the second overall pick in 2012 had he decided not to stay at USC. Barkley completed 69.1-percent of his passes in 2011 with 39 touchdowns and just seven interceptions.
3. Indianapolis Colts (4-12) - Sam Montgomery (DE/LSU)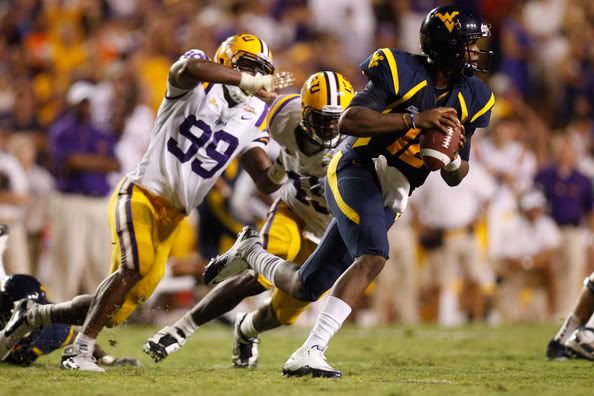 From an early perspective, Andrew Luck could have a similar beginning to his career as Peyton Manning did. He is the star on a relative dim offense (minus the aging Reggie Wayne) and their top players are all getting older.
When Manning was drafted by Indianapolis, he rejuvenated the offense, but the defense could not keep up. The Colts replied by adding Dwight Freeney to bolster their pass rush. Let me introduce you to this era's Dwight Freeney.
Montgomery had nine sacks for the Tigers last season and could spend his first season rotating with Mathis and Freeney, gaining experience before he ultimately replaces them.
4. Tampa Bay Buccaneers (4-12) - D.J. Fluker (OT/Alabama)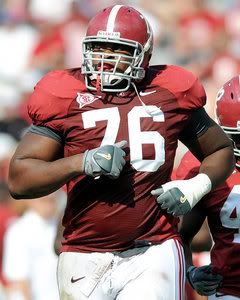 New head coach Greg Schiano will continue to overhaul this roster and beging to get "his guys" in. Schiano will want more athletic players on the offensive line and the overweight Donald Penn could be cut by next season.
Fluker is the top tackle available and is nimble for a guy who weighs 335 pounds.
5. Arizona Cardinals (5-11) - Tyler Wilson (QB/Arkansas)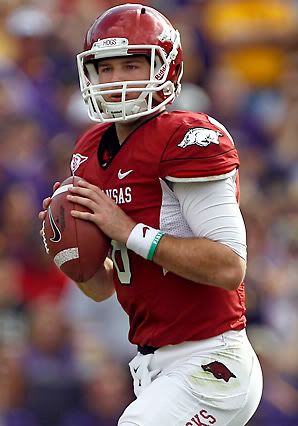 Arizona made a bad investment in Kevin Kolb. It seems like the only players in the league able to stop Larry Fitzgerald are the Cardinals quarterbacks.
If Arizona is finishing this low, heads will roll. Ken Wisenhunt and Kolb will be gone and a new quarterback will be in. Wilson is making his case as the top quarterback of the draft class and could overtake Matt Barkley at this time next year. Last season, Wilson threw 24 touchdowns with just six interceptions.
6. Oakland Raiders (5-11) - Logan Thomas (QB/Virginia Tech)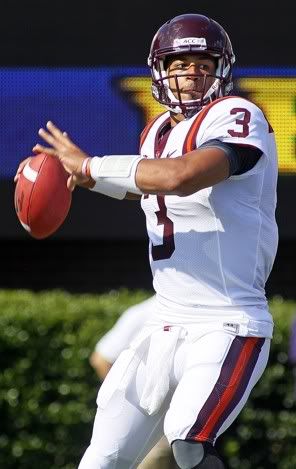 Oakland was $20 million over the cap this offseason and had to make cuts. ALong with this, they are also under a new coaching regime and the rest of the division has found ways to improve. Oakland has not had a first round draft pick since 2010.
Carson Palmer will be 33 next year and has been inconsistent thus far in Oakland. The Raiders will need to seek a replacement for him soon.
Thomas makes a lot of sense for Oakland, who usually looks for the more athletic player. At 6-foot-6 and 265 pounds, Thomas plays much like Daunte Culpepper.
7. Minnesota Vikings (5-11) - David Amerson (CB/NC State)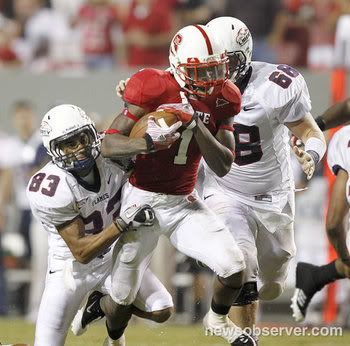 Anyone who saw a Vikings game last year knows just how bad their secondary is. Minnesota traded up to draft Harrison Smith in the 2012 Draft, but they need to add more if they want to compete with Aaron Rodgers, Matt Stafford and Jay Cutler.
8. Jacksonville Jaguars (6-10) - Manti Te'o (ILB/Notre Dame)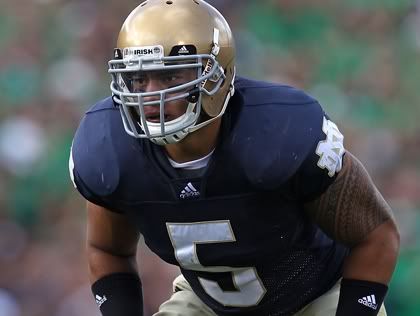 Jacksonville needs to improve their front seven, particularly at linebacker where Kyle Bosworth and Daryl Smith will be free agents.
If Te'o declared this year, he could have been a first round pick.
9. St. Louis Rams (6-10) - Keenan Allen (WR/California)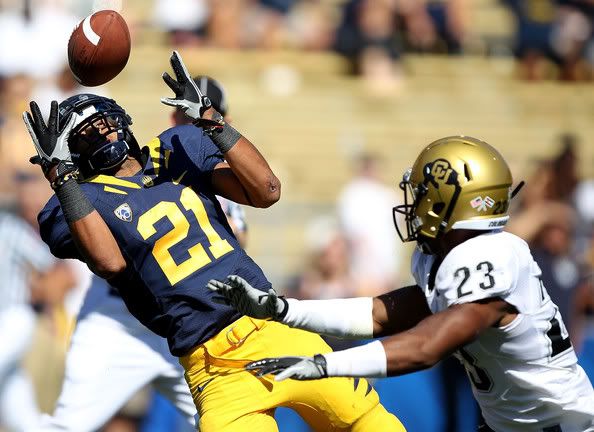 The Rams failed to address their need for a wide receiver early in the draft this year, but unless someone picks up the slack, that wont be the case in 2013.
10. St. Louis Rams (6-10) - Jake Matthews (OT/Texas A&M)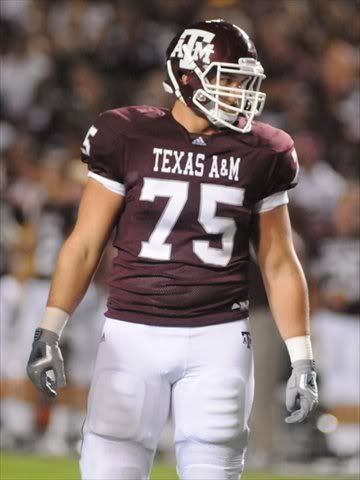 Along with a need for a receiver, the Rams will also look into upgrading their offensive line. Jason Smith has been a bust and Roger Saffold gets overmatched too often at left tackle.
It's arguable that Matthews may not even be the best tackle on the team. Luke Joeckel is also a top prospect, but I think the Rams will pick Matthews in the end because of Fisher's relationship with the family.
11. San Diego Chargers (6-10) - Xavier Rhodes (CB/Florida State)
Quentin Jammer will be a 34-year-old free agent next season, so San Diego will need to look into addressing the secondary next season.
12. Seattle Seahawks (6-10) - Terrance Williams (WR/Baylor)
Seattle now has a franchise quarterback in Matt Flynn and running back in Marshawn Lynch. Now they need to improve their group of receivers.
13. Tennessee Titans (7-9) - Jackson Jeffcoat (DE/Texas)
Tennessee needs to improve their defensive line after finishing the season among the lowest in the league in sacks. Their inability to get to the quarterback cost the team a few games.
Tennessee also likes to draft from the Big XII. Four of their last 10 first round selections have come from the Big XII.
14. New Orleans Saints (7-9) - Star Lotulelei (DT/Utah)
Don't be surprised if the Saints struggle without Sean Payton. While the team prepared to replace Johnathan Vilma, they will look into bolstering their defensive line in 2013. Lotulelei is the first overall pick in Tood McShay's mock draft.
15. Miami Dolphins (7-9) - Barkevious Mingo (DE/LSU)
If one of the top wide receivers isn't available for Miami, expect the Dolphins to look into improving their defensive line. Aside from Cameron Wake, the Dolphins don't have many other reliable pass rushers on the team.
Mingo registered eight sacks with LSU last year.
16. Philadelphia Eagles (7-9) - Luke Joeckel (OT/Texas A&M)
If Michael Vick struggles, or fails to make it through a season again, the Eagles may look at taking Landry Jones, or even trade up for Logan Thomas, but for now they need help at tackle.
Demetress Bell's contract is pretty much a one-year deal and the team is unsure of how healthy Jason Peters will be when he returns from his achilles injury.
17. Chicago Bears (7-9) - C.J. Mosley (LB/Alabama)
Brian Urlacher is turning 34 this month. He can't be relied upon in Chicago forever an the Bears need to find someone to groom when he does ultimately retire.
18. New York Jets (7-9) - Marcus Lattimore (RB/South Carolina)
If Shonn Greene continues to show that he can not be relied upon to carry the ball consistently, the Jets will look onward in 2013.
19. Atlanta Falcons (9-7) - Kyle Eifert (TE/Notre Dame)
Tony Gonzalez is getting old and the Falcons will want to bring in someone to take his place once he retires. Ryan has a lot of success with Roddy White and Julio Jones, but a big reason why is because so many teams are also forced to watch out for Gonzalez in the middle.
20. Denver Broncos (9-7) - Marquess Wilson (WR/Washington State)
Demariyus Thomas could have a big season with Peyton Manning throwing passes to him, but the team lacks anything after him. Manning was at his best when he had Marvin Harrison and Reggie Wayne together, so why not give him that combo in Denver?
21. Dallas Cowboys (11-5) - T.J. McDonald (S/USC)
Dallas fixed the cornerback position this offseason, but they still need to improve their safeties. If McDonald isn't the pick here, the team could also go after Jarvis Jones.
22. Kansas City Chiefs (10-6) - Landry Jones (QB/Oklahoma)
The Chiefs have talent throughout their roster except at quarterback. The Team could easily make the playoos, even with Manning in Denver, but Cassel isn't good enough to get them out of the first round.
23. Carolina Panthers (10-6) - Kawann Short (DT/Purdue)
The Panthers did not address their defensive line in the draft, but in 2013, I would be surprised if they continue to stick with the current unit.
24. Baltimore Ravens (11-5) - Kevin Reddick (ILB/North Carolina)
Ray Lewis will be 38 when the season opens in 2013, Baltimore will need to start looking for the next middle linebacker for the team.
25. Cincinnati Bengals (10-6) - Knile Davis (RB/Arkansas)
Provided Davis can show he is fine after injuring his ankle last season, he should be a first rounder. The Bengals can not be content with BenJarvis Green-Ellis carrying the workload.
26. San Francisco 49ers (11-5) - Johnathan Hankins (DT/Ohio State)
San Francisco could also look at offensive line here, but Hankins is a monster at defensive tackle, tacking on 66 tackles, 10 of which were for a loss.
27. New York Giants (12-4) - Jarvis Jones (OLB/Georgia)
The Giants always like to build their defense through the pass rush. If Osi Umenyiora is gone in 2013, Jones, who had 13.5 sacks for Georgia last year, could step into his place both as a defensive end or a middle linebacker.
28. New England Patriots (13-3) - Barrett Jones (G/Alabama)
Bill Belichick loves having guys who can play more than one position. Jones is able to play at any spot on the offensive line, but is best suited at guard.
29. Pittsburgh Steelers (10-6) - Tony Jefferson (S/Oklahoma)
Will Allen will be a free agent in 2013 and Ryan Clark is turning 33 during the season. If the Steelers don't go for a safety, the could also add a linebacker to the roster.
30. Detroit Lions (12-4) - DeMarcus Milliner (CB/Alabama)
The Lions need to upgrade their secondary, which is one of the few holes they have on their roster entering 2012.
31. Houston Texans (12-4) - Johnathan Banks (CB/Mississippi State)
The Texans also need help in their secondary. If Kareem Jackson doesn't show up this year, Houston may opt to get rid of him.
32. Green Bay Packers (12-4) - Khaleed Holmes (C/USC)
Signing Jeff Saturday was just a stop-gap solution for the Packers. If a top center is available in the draft, it shouldn't be surprising if they take him.