Mock draft is updated weekly with the team records reflecting a combination between my predictions and the actual results.
1. Jacksonville Jaguars (3-13) – Matt Barkley (QB/USC)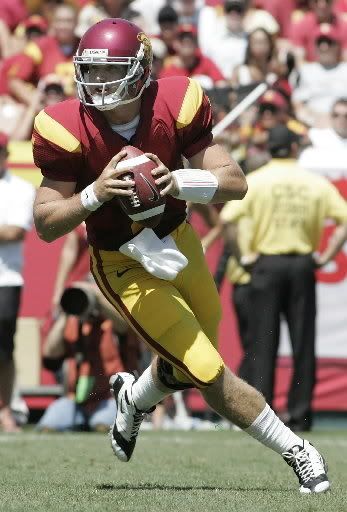 With the ongoing holdout from Maurice Jones-Drew, the person who will suffer the most is Blaine Gabbert. Even when Jones-Drew does come back, he will not be in top shape and will most likely have a season similar to the one Chris Johnson has last year. With Jones-Drew in the lineup, Gabbert simply looks like a bad quarterback. Without him, this team simply won't be able to win.
Barkley does not have an elite arm, but his mechanics are top notch. If he declared for the draft last year, he would have been a top-2 pick.
2. Minnesota Vikings (3-13) – Star Lotulelei (DT/Utah)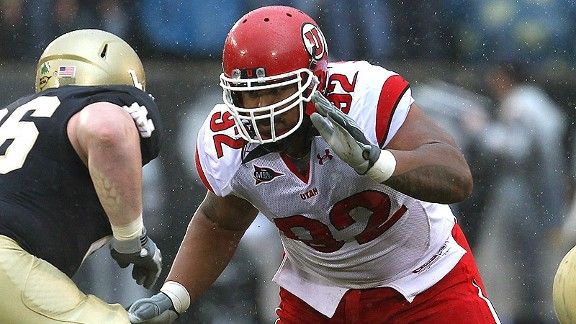 Minnesota has many holes on defense, including their interior defensive line where an aging Kevin Williams will be a 32 year old free agent next spring.
Lotulelei has been soaring up draft boards during the summer. Expect a huge year from the 6'4" 325 pound senior.
3. Cleveland Browns (4-12) – Barkevious Mingo (DE/LSU)
Cleveland spent the last draft addressing their needs on offense. This year, they will need to shape up their defense, and in particular, a pass rush unit that managed to get to the quarterback just 32 times last year.
Mingo is part of LSU's two-headed monster at defensive end along with Sam Montgomery and tallied eight sacks last year.
4. Arizona Cardinals (5-11) – Tyler Wilson (QB/Arkansas)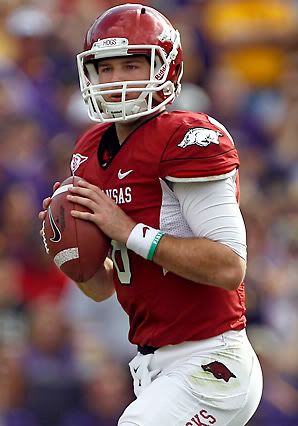 If the Cardinals are picking this low in the draft, heads will roll. Ken Wisenhunt will most likely be out of a job, and with a new regime, a new quarterback comes in as well, which means that the Kevin Kolb/John Skelton experiment will mercifully come to an end.
Wilson dismantled an inferior Jacksonville State defense last week, passing for 367 yards and a trio of touchdowns.


5. Oakland Raiders (5-11) – Logan Thomas (QB/Virginia Tech)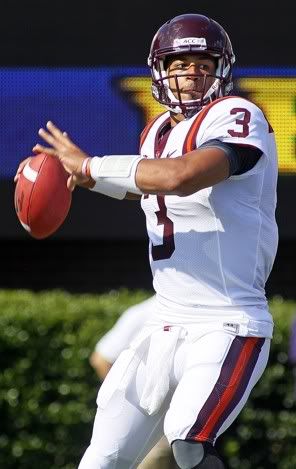 The Raiders were stuck between a rock and a hard place this offseason as the team was over the salary cap and were forced to cut several players because of it. This will cause another long season in Oakland, where the coaches will begin to consider moving away from Carson Palmer.
The Raiders will love the arm strength of Thomas as well as his mobility in the pocket. Thomas does, however, need to improve upon his accuracy.
6. Tampa Bay Buccaneers (6-10) David Amerson (CB/NC State)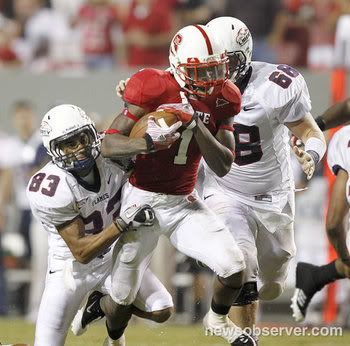 With Ronde Barber converting to free safety and Aqib Talib constantly facing legal issues, Tampa Bay needs to shore up their secondary. Adding Mark Barron was a start, but in a division with Drew Brees, Matt Ryan and Cam Newton, it just is not enough.
Amerson is a complete ballhawk who led the nation with 13 interceptions last year. He has a legitimate shot to become the first cornerback taken in the top three since Shawn Springs in 1997.
7. Seattle Seahawks (6-10) Robert Woods (WR/USC)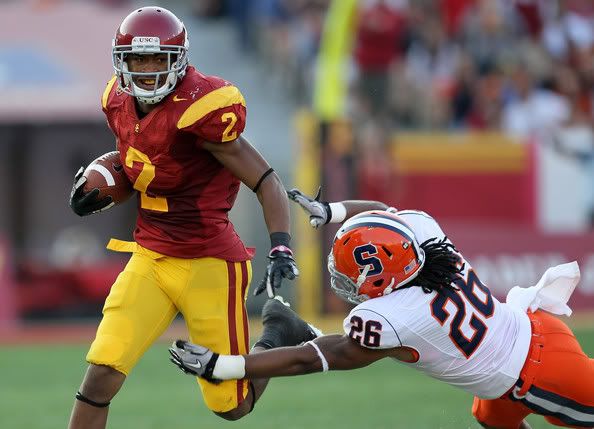 The Seahawks wide receiver situation is a mess. Braylon Edwards and Terrell Owens were both brought in to help and neither worked out and Golden Tate is not developing as expected. If they expect Russell Wilson to succeed, they will need to give him better targets.
Woods caught six passes for 42 yards and a pair of touchdowns last week.
8. Indianapolis Colts (6-10) Jarvis Jones (OLB/Georgia)
The Colts are in rebuilding mode and in the process, they will need to find a replacement for Dwight Freeney and Robert Mathis.
Jones is arguably the best pass-rusher available in the draft. Against Buffalo, Jones had eight tackles (six solo) to go along with 1.5 sacks and a pass deflection.


9. St. Louis Rams (6-10) Taylor Lewan (OT/Michigan)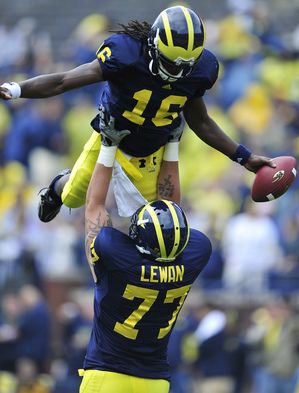 The Rams finally put an end to the Jason Smith debacle. Unfortunately, Roger Saffold is not a quality left tackle either. Jeff Fisher saw firsthand the abuse David Carr received in Houston. If he wants to prevent Sam Bradford from suffering the same fate, he will use one of his two first round draft picks next year on a left tackle.


10. Miami Dolphins (7-9) – Sam Montgomery (DE/LSU)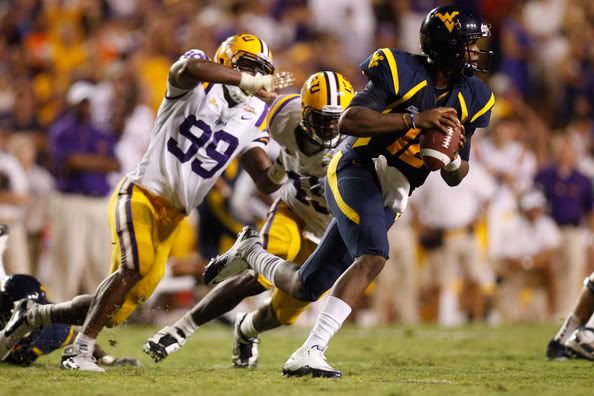 The Dolphins desperately need to add more to their pass rush. The only other person on the team to have seven or more sacks besides Cameron Wake last year was Jason Taylor, who retired during the offseason.
Montgomery posted nine sacks last year for LSU.
11. Buffalo Bills (7-9) – Jackson Jeffcoat (DE/Texas)
Buffalo signed Mario Williams during the offseason, but having just one pass-rusher is not enough in this league. Expect Buffalo to explore more options during the offseason.
After failing to get a sack in the first six games of 2011, Jeffcoat emerged in the second half of the year, recording 7.5 sacks recording at least one sack in six of his final seven games.


12. San Diego Chargers (7-9) – Justin Hunter (WR/Tennessee)
San Diego lost Vincent Jackson last offseason and could lose Malcolm Floyd in the next. Antonio Gates is also aging. The Chargers will need to retool their wide receivers if they want to be in contention.


13. Cincinnati Bengals (7-9) – Marcus Lattimore (RB/South Carolina)
Cincinnati lost Cedric Benson last offseason and replaced him with BenJarvus Green-Ellis, who has never been a feature back in his NFL career.
Lattimore is a stud running back. Last week, he ran for 110 yards with two scores on 23 carries.


14. New York Jets (8-8) Eric Reid (S/LSU)
Antonio Cromartie was approached during the offseason about converting to safety, but until that happens, the position is still a need in New York. Reid is the top safety available and could see himself flying up the draft boards like Mark Barron did last April.
15. Denver Broncos (8-8) – Johnathan Hankins (DT/Ohio State)
Derek Wolfe was drafted by Denver last year, but is Hankins falls to the Broncos, there is no doubt they will select him as well.
With Hankins, The Broncos could has one of the best front sevens in the NFL with Von Miller and Elvis Dumervil coming off the edge.
16. St. Louis Rams (6-10) – Keenan Allen (WR/California) [via Washington]
Along with needing help on the offensive line, St. Louis also needs to give Sam Bradford someone to throw to. Last year's top receiver, Brandon Lloyd, bolted the team to go to New England.


17. Philadelphia Eagles (8-8) – Xavier Rhodes (CB/Florida State)
Dominique Rogers-Cromartie is in his contract year and unless Philadelphia re-signs him, they will enter the draft needed to address the position.


18. Dallas Cowboys (9-7) - Chase Warmack (G/Alabama)
Dallas added Tyron Smith two years ago, but they also need to bolster their interior offensive line. Warmack, or his teammate, Barrett Jones, could be selected here.
19. New Orleans Saints (9-7) – D.J. Fluker (OT/Alabama)
Jermon Bushrod is in his contract year. Regardless, Fluker would be an upgrade at the position and would come at a much cheaper price.


20. Atlanta Falcons (9-7) – Manti Te'o (LB/Notre Dame)
Te'o could easily see his stock rise much higher come draft day, but for now, Atlanta gets a steal at 20th overall. The Falcons need help in the middle, where they saw Curtis Lofton leave for New Orleans during the offseason.


21. Pittsburgh Steelers (9-7) – Jonathan Banks (CB/Mississippi State)
Ike Taylor will be 33 next year with a $6 million price tag, which will most likely make him a casualty. If the Steelers do part ways with Taylor, cornerback will be their top need entering the draft.


22. Chicago Bears (10-6) – Kawann Short (DT/Purdue)
Chicago cut Amobi Okoye, traded for Brian Price, then cut Price and re-signed Okoye. Neither of the former first-round talents seem to be working out for the Bears, Short will beef up the middle for the Bears, helping prevent offenses from double-teaming Julius Peppers.


23. Kansas City Chiefs (9-7) – Landry Jones (QB/Oklahoma)
Kansas City has talent all across their roster and then one big glaring need of a quarterback. Matt Cassel has proven that he can take a team to the playoffs, but he can't win there. The Chiefs will need to upgrade in the draft.
24. Carolina Panthers (10-6) – Luke Joeckel (OT/ Texas A&M)
Carolina failed to trade Jeff Otah to the Jets, so instead, they cut him. Next offseason, they will need to find his replacement.


25. Tennessee Titans (10-6) – Alex Okafor (DE/Texas)
Tennessee has an unproven Derrick Morgan and Kamerion Wimbley on their defensive line with very little talent behind it. Their offense seems to be set, but now they need to address the defensive line.


26. Detroit Lions (10-6) – T.J. McDonald (S/USC)
It is no secret that the Lions need help in their secondary. Detroit also has a knack for taking the best player available. At this spot, McDonald not only fills a big neet in Detroit, but he is the best available player as well.


27. New England Patriots (11-5) – Montee Ball (RB/Wisconsin)
The Patriots have not had a 1,000 yard running back since Corey Dillon in 2004. With Tom Brady aging, they will need a back to help take the defenses off of him.


28. San Francisco 49ers (11-5) – Barrett Jones (OL/Alabama)
Jones currently plays center for the Crimson Tide, but he is available at all three spots and can provide much needed depth for a pro offense. San Francisco may be done with the Anthony Davis experiment after the season and Jones could supplant him for a year before moving inside.


29. New York Giants (11-5) – Chris Faulk (OT/LSU)
New York has an offensive line that is aging. Eli Manning will be 32 next January and the Giants will want to protect him for the twilight of his career.
30. Houston Texans (12-4) – Justin Gilbert (CB/Oklahoma State)
Kareem Jackson is just about out of chances in Houston. If he cannot prove that he can start across from Dunta Robinson this season, he will be replaced.
31. Green Bay Packers (12-4) – Jonathan Cooper (G/North Carolina)
Green Bay has two guards entering free agency and there is a good chance that they will not retain both players. Cooper could fill in nicely for the Packers.


32. Baltimore Ravens (10-6) – Jake Matthews (OT/Texas A&M)
Following today's awkward Twitter feed where Bryant McKinnie claimed he was released by Baltimore after failing to settle on a renegotiated contract, it is becoming more apparent that the Ravens need to find his replacement sooner rather than later. Matthews is the son of Titans Hall of Fame tackle Bruce Matthews.