1. Jacksonville Jaguars (3-13) – Matt Barkley (QB/USC)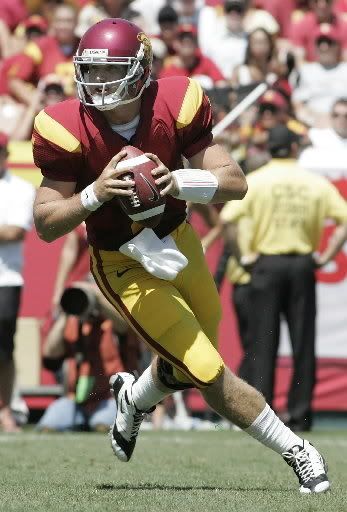 With the ongoing holdout from Maurice Jones-Drew, the person who will suffer the most is Blaine Gabbert. Even when Jones-Drew does come back, he will not be in top shape and will most likely have a season similar to the one Chris Johnson has last year. With Jones-Drew in the lineup, Gabbert simply looks like a bad quarterback. Without him, this team simply won't be able to win.
Barkley does not have an elite arm, but his mechanics are top notch. If he declared for the draft last year, he would have been a top-2 pick.
2. Minnesota Vikings (3-13) – Star Lotulelei (DT/Utah)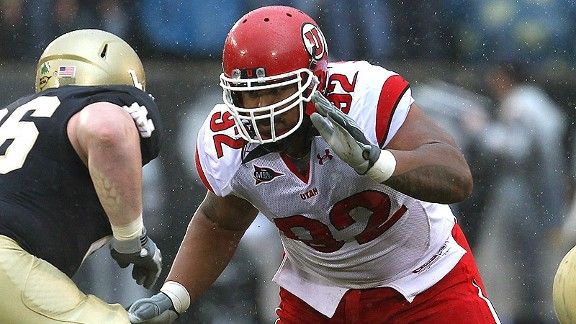 Minnesota has many holes on defense, including their interior defensive line where an aging Kevin Williams will be a 32 year old free agent next spring.
Lotulelei has been soaring up draft boards during the summer. Expect a huge year from the 6'4" 325 pound senior.
3. Cleveland Browns (4-12) – Barkevious Mingo (DE/LSU)
Cleveland spent the last draft addressing their needs on offense. This year, they will need to shape up their defense, and in particular, a pass rush unit that managed to get to the quarterback just 32 times last year.
Mingo is part of LSU's two-headed monster at defensive end along with Sam Montgomery and tallied eight sacks last year.
4. Arizona Cardinals (5-11) – Logan Thomas (QB/Virginia Tech)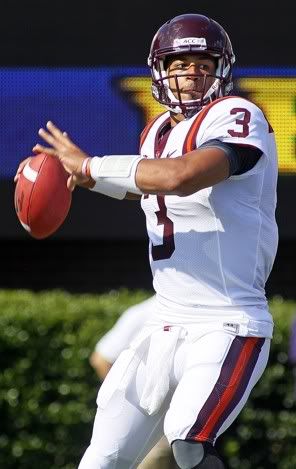 If the Cardinals are picking this low in the draft, heads will roll. Ken Wisenhunt will most likely be out of a job, and with a new regime, a new quarterback comes in as well, which means that the Kevin Kolb/John Skelton experiment will mercifully come to an end.
Tyler Wilson has suffered his second concussion in as many years. With concussions becoming a bigger issue in the league and teams seeing firsthand how concussions have ended the careers of Troy Aikman and Steve Young, they may be hesitant to go after Wilson. Wilson and Thomas were neck-and-neck, but for now, Thomas gets the nod.
Previous Pick: 4th Overall – Tyler Wilson (QB/Arkansas)
5. Oakland Raiders (5-11) – David Amerson (CB/NC State)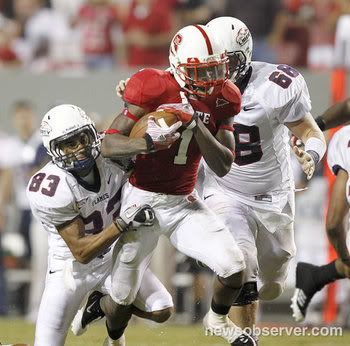 The Raiders were stuck between a rock and a hard place this offseason as the team was over the salary cap and were forced to cut several players because of it. This will cause another long season in Oakland.
Oakland never properly replaced Nnamdi Asomugha. Amerson is a ball hawk wholed the nation in interceptions last year.
Previous Pick: 5th Overall – Logan Thomas (QB/Virginia Tech)
6. Seattle Seahawks (6-10) – Robert Woods (WR/USC)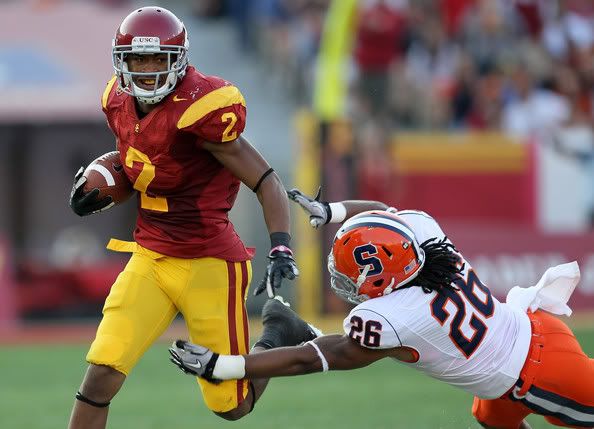 Seattle's wide receiver situation is a mess. If the Seahawks want Russell Wilson to be successful in the NFL, they need to give him a top tier receiver immediately.
Woods has already caught four touchdown passes this season on just 16 receptions.
Previous Pick: 7th Overall
7. Indianapolis Colts (6-10) – Jarvis Jones (OLB/Georgia)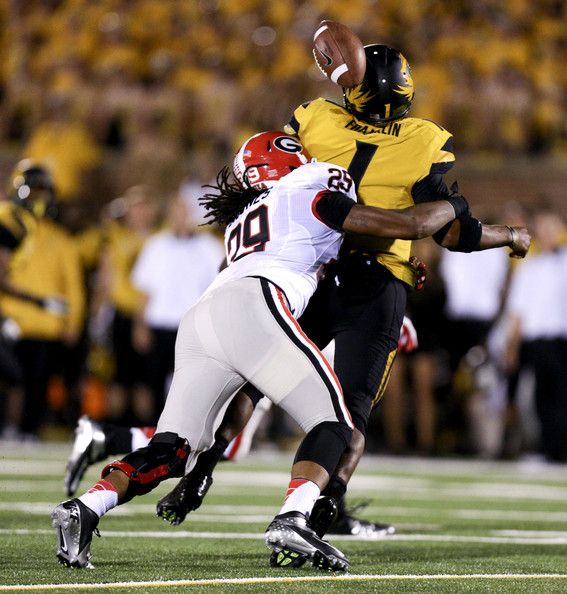 The Colts are in rebuilding mode and in the process, they will need to find a replacement for Dwight Freeney and Robert Mathis.
Jones had a monster game last week against Missouri. His two sacks and interception were a big reason why the Bulldogs were able to blowout their new SEC foes.
Previous Pick: 8th Overall
8. St. Louis Rams (6-10) Taylor Lewan (OT/Michigan)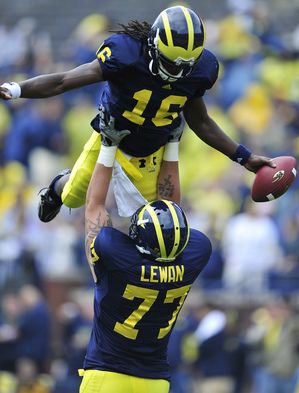 The Rams finally put an end to the Jason Smith debacle. Unfortunately, Roger Saffold is not a quality left tackle either.
Jeff Fisher saw firsthand the abuse David Carr received in Houston. If he wants to prevent Sam Bradford from suffering the same fate, he will use one of his two first round draft picks next year on a left tackle.
Previous Pick: 9th Overall
9. Buffalo Bills (6-10) – Tyler Wilson (QB/Arkansas)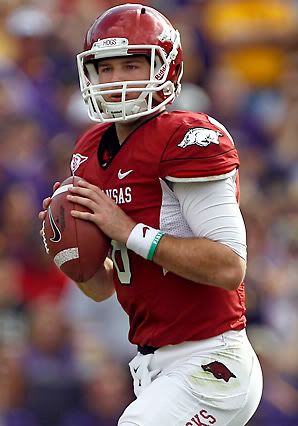 Ryan Fitzpatrick is continuing to show that the first six weeks of last season were just a fluke. Buffalo will need to find a way out of that contract next offseason if he continues to play poorly.
Wilson has the talent to be a top five pick, but he will need to prove that his concussion issues will not linger into the NFL.
Previous Pick: 11th Overall Jackson Jeffcoat (DE/Texas)
10. Tampa Bay Buccaneers (7-9) – Jonathan Hankins (DT/Ohio State)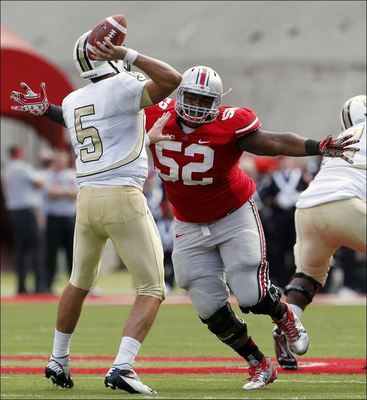 Tampa Bay traded Brian Price to Chicago before the season started after Price punched rookie Mark Barron during practice. The team never replaced him adequately, however, and will need to do so next year. Despite this, they dominated the Panthers rushing attack last week.
Hankins can line up at nose tackle and give the Buccaneers more teeth in their front seven similar to what the Lions did last year when they drafted Nick Fairley.
Previous Pick: 6th Overall David Amerson (CB/NC State)
11. Miami Dolphins (7-9) – Sam Montgomery (DE/LSU)
The Dolphins desperately need to add more to their pass rush. The only other person on the team to have seven or more sacks besides Cameron Wake last year was Jason Taylor, who retired during the offseason.
Montgomery posted nine sacks last year for LSU.
Previous Pick: 10th Overall
12. San Diego Chargers (7-9) – Justin Hunter (WR/Tennessee)
San Diego lost Vincent Jackson last offseason and could lose Malcolm Floyd in the next. Antonio Gates is also aging. The Chargers will need to retool their wide receivers if they want to be in contention.
13. Cincinnati Bengals (7-9) – Marcus Lattimore (RB/South Carolina)
Cincinnati lost Cedric Benson last offseason and replaced him with BenJarvus Green-Ellis, who has never been a feature back in his NFL career.
Lattimore is a stud running back.
14. St. Louis Rams (6-10) – Keenan Allen (WR/California)
Along with the need for a new left tackle, the Rams also need to add another wide receiver for Sam Bradford. Something tells me the Rams would have had a better chance at upsetting the Lions had Danny Amendola not been their top receiver.
Previous Pick: 16th Overall
15. Philadelphia Eagles (8-8) – Xavier Rhodes (CB/Florida State)
Dominique Rogers-Cromartie is in his contract year and unless Philadelphia re-signs him, they will enter the draft needed to address the position.
Previous Pick: 17th Overall
16. Pittsburgh Steelers (9-7) – Jonathan Banks (CB/Oklahoma State)
Ike Taylor will be 33 next year with a $6 million price tag, which will most likely make him a casualty. If the Steelers do part ways with Taylor, cornerback will be their top need entering the draft.
Previous Pick: 21st Overall
17. Kansas City Chiefs (9-7) – Landry Jones (QB/Oklahoma)
Kansas City has talent all across their roster and then one big glaring need of a quarterback. Matt Cassel has proven that he can take a team to the playoffs, but he can't win there. The Chiefs will need to upgrade in the draft.
Previous Pick: 23rd Overall
18. New Orleans Saints (9-7) – DJ Fluker (OT/Alabama)
Jermon Bushrod is in his contract year. Regardless, Fluker would be an upgrade at the position and would come at a much cheaper price.
Previous Pick: 19th Overall
19. Carolina Panthers (9-7) – Chase Warmack (G/Alabama)
The most talented group of running backs in the league amassed just 10 yards last weeke against Tampa Bay. Though it was just on 13 carries, Carolina's interior offensive line needs to be fixed.
Previous Pick: 22nd Overall Luke Joeckel (OT/Texas A&M)
20. New York Giants (10-6) – Luke Joeckel (OT/Texas A&M)
New York's offensive line is aging and it became obvious when Dallas' pass rush was able to sack Eli Manning three times and hit him five other times.
With Manning entering the second half of his career, the Giants will want to keep him healthy.
Previous Pick: 29th Overall Chris Faulk (OT/LSU)
21. New York Jets (9-7) – Jackson Jeffcoat (DE/Texas)
A safety could be taken here, but if Jeffcoat falls to the Jets, this pick is a no-brainer. Jeffcoat is a borderline top ten talent and is easily the best player still available.
Jeffcoat could solidify a Jets defensive line that already features first round picks Muhammad Wilkerson and Quinton Coples.
Previous Pick: 14th Overall Eric Reid (S/LSU)
22. Chicago Bears (10-6) – Kawann Short (DT/Purdue)
Chicago cut Amobi Okoye, traded for Brian Price, then cut Price and re-signed Okoye. Neither of the former first-round talents seem to be working out for the Bears. Short will beef up the middle for the Bears, helping prevent offenses from double-teaming Julius Peppers.
23. Tennessee Titans (10-6) – Barrett Jones (C/Alabama)
Chris Johnson again fell flat in the season opener. Tennessee is already down to their backup center after Eugene Amano went down for the year in the preseason. Even before the injury, Amano was seen as a liability.
Jones is a versatile player who can line up anywhere on the offensive line.
Previous Pick: 25th Overall – Jackson Jeffcoat (DE/Texas)
24. Dallas Cowboys (10-6) – Alex Okafor (DE/Texas)
Dallas' pass rush looked very good against the Giants, with the exception of Marcus Spears, who was essentially a non-factor in the game. How he was given a franchise tag is beyond me. If he continues to play poorly, Dallas will look elsewhere for a pass rusher across from DeMarcus Ware.
Previous Pick: 18th Overall – Chase Warmack (G/Alabama)
25. Detroit Lions (10-6) – Eric Reid (S/LSU)
It is no secret that the Lions need help in their secondary. Detroit also has a knack for taking the best player available. Reid can go anywhere between 14th overall to 28th overall.
Previous Pick: 26th Overall – TJ McDonald (S/USC)
26. Denver Broncos (9-7) – Manti Te'o (LB/Notre Dame)
With the pass rush being set in Denver, the Broncos now need to focus on adding to the interior to their front seven, at both defensive tackle and linebacker. D.J. Williams is owed $6 million this season and is a free agent in 2013.
Previous Pick: 15th Overall – Jonathan Hankins (DT/Ohio State)
27. Atlanta Falcons (10-6) – Montee Ball (RB/Wisconsin)
Atlanta's offense looked great against the Chiefs, with the exception of Michael Turner, who is showing signs of wear and tear. Ball is the kind of back who can not only carry the ball 30 times a game, but he gets better as the game goes on.
Previous Pick: 20th Overall – Manti Te'o (LB/Notre Dame)
28. New England Patriots (11-5) – TJ McDonald (S/USC)
Patrick Chung is in the final year of his contract. If he walks, New England will need to address the secondary.
Previous Pick: 27th Overall – Montee Ball (RB/Wisconsin)
29. San Francisco 49ers (12-4) – Chris Faulk (OT/LSU)
San Francisco may have knocked off the Packers, but Alex Smith was sacked four times in the game. Anthony Davis needs to be replaced at left tackle.
Previous Pick: 28th Overall – Barrett Jones (C/Alabama)
30. Houston Texans (12-4) – Jake Matthews (OT/Texas A&M)
Houston needs a new right tackle or a wide receiver to line up across form Andre Johnson. Matthews is the top player available who plays right tackle due to Luke Joeckel blocking the left tackle position.
Previous Pick: Justin Gilbert (CB/Oklahoma State)
31. Green Bay Packers (11-5) – DeMarcus Milliner (CB/Alabama)
Charles Woodson is getting older and the Packers need another cornerback to line up across from Tramon Williams. Woodson could be converting to safety in the near future.
Previous Pick: Jonathan Cooper (G/North Carolina)
32. Baltimore Ravens (10-6) – Ricky Wagner (OT/Wisconsin)
Baltimore will need to find the heir for both Ray Lewis and Bryant McKinnie in the near future.
Previous Pick: Jake Matthews (OT/Texas A&M)