by Justin Worsley
1. Tampa Bay Buccaneers (3-13) - Marcus Mariota (QB/Oregon)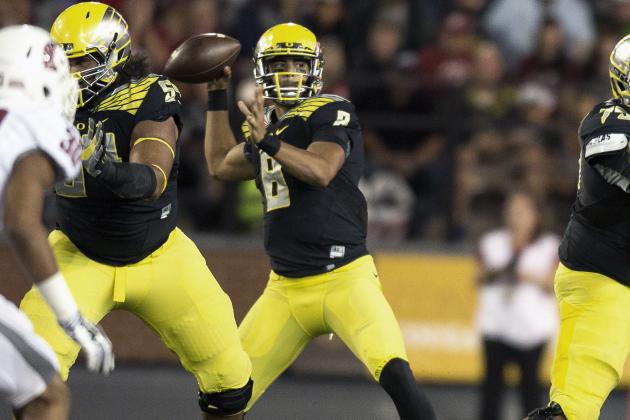 Josh McCown finally got benched and Mike Glennon was not much better in a blowout loss to the Falcons on Thursday night. Each week, it looks more and more likely that the Bucs will take on a new franchise quarterback.
Mariota has been lights out all season for Oregon. Unlike Jameis Winston, Mariota has avoided negative press all season. Many teams are now avoiding Winston after his latest incident, stating that he is simply too immature to play the position.
2. Jacksonville Jaguars (3-13) - Leonard Williams (DE/USC)
Jacksonville needs a reliable pass rusher if they want to compete with Andrew Luck and Indianapolis. No Jaguars has recorded at least 10 sacks in a season since 2006.
3. Minnesota Vikings (4-12) - Randy Gregory (DE/Nebraska)
Minnesota let Jared Allen walk this offseason after giving Everson Griffen an massive and undeserving extension. Though Anthony Barr was drafted last season, the Vikings need to bring in another premier pass rushing talent to content in a NFC North Division loaded with talent at quarterback.
4. Oakland Raiders (4-12) - Amari Cooper (WR/Alabama)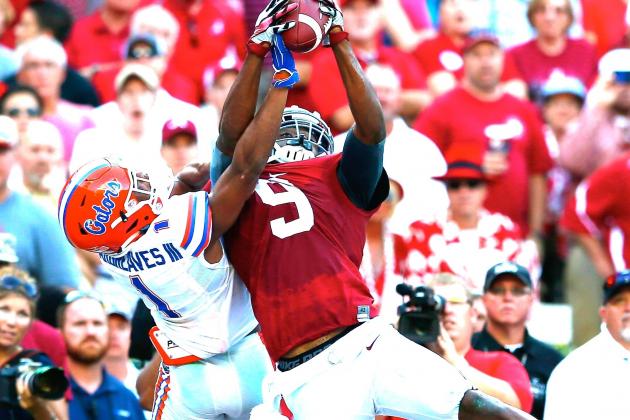 I have had the Raiders taking Andrus Peat for the past few weeks, but their pass protection has been great so far, so I will back off of that position for now. Wide receiver, however, is in dire need of an upgrade.
5. Cleveland Browns (8-8) - Andrus Peat (OT/Stanford)
The Browns need an upgrade at right tackle, which Peat can provide. Cleveland was reportedly interested in Greg Robinson if he had fallen to them in last year's draft.
6. Washington Redskins (6-10) - PJ Williams (CB/Florida State)
DeAngelo Hall is now out for the season after tearing his Achilles. He could become a cap casualty in the offseason. Even if he is retained, the Redskins secondary is a huge weakness on this team.
7. New York Giants (6-10) - Cedric Ogbuehi (OT/Texas A&M)
The Giants did a great job protecting Eli Manning in a win over Houston last week, but I am still not sold on their unit overall. Left tackle is definitely a position in need of an upgrade.
8. St. Louis Rams (6-10) - Landon Collins (S/Alabama)
Jeff Fisher has a good amount of pull in the Rams organization, enough pull to refuse to allow the Rams to draft Jameis Winston. The Rams need a quarterback, but with how well Austin Davis has played so far, they may be willing to roll the dice on him.
Winston likely reminds Fisher a lot of Vince Young and we all know how that situation ended. St. Louis' safeties are a weak part of their defense and adding Collins would immediately improve the unit.
9. Tennessee Titans (6-10) - Ronald Darby (CB/Florida State)
Tennessee's secondary has looked awful over the past two weeks, culminating with Blidi Wreh-Wilson trying (and failing) to light up Andy Dalton instead of wrapping him up, allowing Dalton to avoid him and score a rare receiving touchdown. Jason McCourty is nursing an injured groin and was exposed against Cincinnati because of it.
10. Kansas City Chiefs (7-9) - Stefon Diggs (WR/Maryland)
Kansas City's receiving core has been atrocious all season. Dwayne Bowe doesn't care and Donnie Avery is their no. 2 receiver. An upgrade is desperately needed.
11. New York Jets (7-9) - Todd Gurley (RB/Georgia) Chris Johnson had a good debut against the Raiders but then reverted back to his true form against Green Bay. Chris Ivory is good in a complimentary role, but can't be a team's feature back. An upgrade on offense is needed.
12. Pittsburgh Steelers (7-9) - Ellis McCarthy (NT/UCLA)


Pittsburgh's run defense has not been stellar this season and the weak link is play at nose tackle. Joe Flacco exploited this during the Ravens Week 2 win.

13. Cleveland Browns (8-8) - Shilique Calhoun (DE/Michigan State)


Barkevious Mingo has been a bit of a disappointment so far in his career. If he does not pick it up, Cleveland may look for another pass rusher.

14. Atlanta Falcons (8-8) - Melvin Gordon (RB/Wisconsin)


The Falcons running issues are nothing new. With a plethora of quality backs available next season, expect them to pick someone early.

15. Arizona Cardinals (8-8) - Shawn Oakman (DE/Baylor)


John Abraham is more than likely going to retire in the offseason. Arizona will need to find a young pass rusher.

16. San Diego Chargers (8-8) - Ifo Ekpre-Olomu (CB/Oregon)


San Diego's pass defense has been in need of an upgrade for quite some time. Ekpre-Olomu is small, but has the speed to compete in the NFL.

17. Dallas Cowboys (9-7) - Vic Beasley (OLB/Clemson)


Dallas needs a reliable pass rusher after losing DeMarcus Ware. Beasley has a non-stop motor and great hands, but he is undersized for an outside linebacker.

18. Baltimore Ravens (9-7) - TJ Yeldon (RB/Alabama)


The Ravens severed their ties with Ray Rice, but nobody on their roster can be an every-down back. Expect Baltimore to find their next bell cow back early next year.

19. Chicago Bears (9-7) - Eric Kendricks (MLB/UCLA)


The middle of the Bears defense, which has traditionally been a strength of this franchise, has been a void since Brian Urlacher's retirement. The Bears have struggled on run defense again, so expect them to find someone to fix this next year.

20. Detroit Lions (9-7) - Jalen Collins (CB/LSU)


Detroit's leaky secondary has been an issue on this team for quite some time. The Lions will eventually need to address this position.

21. Miami Dolphins (9-7) - Mike Davis (RB/South Carolina)


Knowshon Moreno is injured and is a free agent after the season. Lamar Miller had another good game, but he disappears a lot. Davis could be the every-down back Miami needs.

22. Houston Texans (9-7) - Jameis Winston (QB/Florida State)


I was going to remove Winston completely out of the first round, but I think is he is available here, Houston has to pull the trigger. Ryan Fitzpatrick was awful against the Giants. Houston has a lot of talent, but not at quarterback.

23. New Orleans Saints (10-6) - Dante Fowler (DE/Florida)


New Orleans pass rush needs an upgrade, especially after dumping Will Smith last offseason. Fowler has a lot of potential, but is also a bit of an injury risk.

24. Philadelphia Eagles (10-6) - Trae Waynes (CB/Michigan State)


One glaring weakness on the Eagles defense if their secondary, where they are ranked 30th in the league in yards allowed.

25. Cincinnati Bengals (9-7) - Leonard Floyd (OLB/Georgia)


Cincinnati doesn't have many holes on their roster, but bolstering their pass rush could help. Floyd could become the pass rusher the Bengals were hoping to get last year when they signed James Harrison.

26. Green Bay Packers (10-6) - Devin Funchess (TE/Michigan)


Green Bay needs a reliable check-down option for Aaron Rodgers. Funchess is playing wide receiver at Michigan this year, but his value in the NFL is as a tight end, where his 6'5", 230-pound frame will excel.

27. Carolina Panthers (11-5) - La'El Collins (OT/LSU)


Carolina is doing an incredibly poor job of protecting Cam Newton. The Panthers will need to find a way to protect their franchise quarterback this offseason.

28. New England Patriots (12-4) - Tre' Jackson (G/Florida State)


New England's offensive line looked bad against Oakland. Logan Mankins was traded before the season began, but the team never had the opportunity to fill the void.

29. San Francisco 49ers (11-5) - Jaelen Strong (WR/Arizona State)


Michael Crabtree is an impending free agent, Anquan Boldin is turning 34 next week and Stevie Johnson isn;t dependable. An upgrade is needed at wide receiver.

30. Denver Broncos (13-3) - Benardick McKinney (LB/Mississippi State)


The middle of the Broncos defense has always been a spot of weakness. Denver will look into bolstering their run defense in the near future.

31. Seattle Seahawks (10-6) - Mario Edwards (DE/Florida State)


Chris Clemons is gone and Cliff Avril is a free agent after the season. Expect Seattle to build their pass rush in the offseason.

32. Indianapolis Colts (11-5) - Brandon Scherff (OT/Iowa)


The Colts need to provide better protection for Andrew Luck if they want to keep him on the field.