1. Carolina Panthers (2-14) - Cam Newton (QB/Auburn)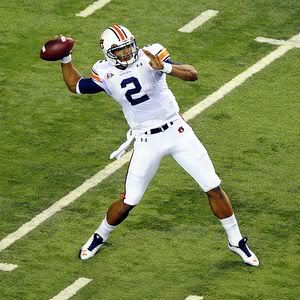 Two months ago, I mocked Newton here and everyone thought I was crazy. Now it looks like it is almost a lock. Nearly every mock draft on the internet has Newton as the top dog and all signs are pointing to Panther new head coach Ron Rivera having his heart set on Newton.
Newton is a natural leader and has won it all on every level so far. Regardless, he makes a lot of bad decisions on the field which need to be worked on before he becomes a starter.
Once a new CBA is set, expect Jimmy Clausen to get traded. Matt Moore will most likely start this season while they get Newton ready for 2012.
2. Denver Broncos (4-12) - Patrick Peterson (CB/LSU)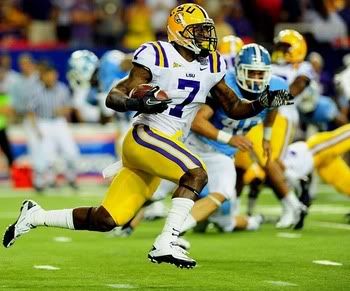 Marcell Dareus is practically the consensus pick here as well, but it doesn't make too much sense to me.
Yes Denver finished dead last int he NFL last season in sacks, but they were also without Elvis Dumervil, their best pass rusher. He needs another man across from him, but not as bad as the team needs a cornerback.
Champ Bailey is aging and has already announced that he will play safety in order to extend his career in the late years. He is near the end of his career, so it will be sooner rather than later that he will make that transition. The other starting cornerback on last year's squad, Perrish Cox, is facing a prison sentence that could put him behind bars for life is convicted on a sexual assault charge.
Patrick Peterson is the best player available in this draft and is good enough to go no. 1, but the Panther won't take him. He can be the no. 2 cornerback for a year or two while Bailey lines up across from him until he moves to safety.
3. Buffalo Bills (4-12) - Von Miller (OLB/Texas A&M)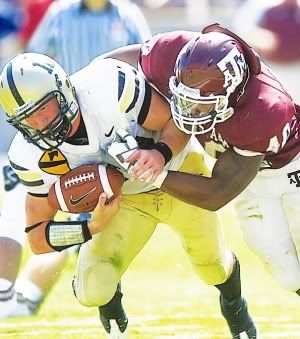 Buffalo would really love Cam Newton, but it isn't going to happen. Von Miller isn't that bad of a consolation prize though.
Miller is a sack machine who tore apart the Big XII in the last two seasons. He is also very intelligent and has no character issues. Buffalo needs all the help it can get in their pass rush, especially considering Tom Brady and Mark Sanchez are in their division.
4. Cincinnati Bengals (4-12) - A.J. Green (WR/Georgia)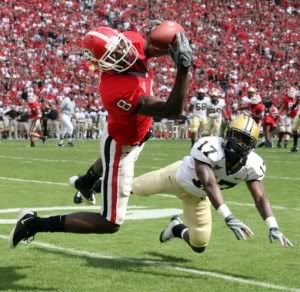 There is absolutely no chance that Cincinnati drafts a quarterback in the first round. The organization still has hope that Carson Palmer is just bluffing and drafting a quarterback in the first round is not going to help their chances.
Giving him a new target, however, can help their chances of retaining him. Terrell Owens definitely will not be on the team next season and there is a good chance Chad Ochocinco will not be either. Green is speedy and has the ideal size of a wide receiver. He is not afraid to stretch out for played and dominated in the SEC last season when he played.
5. Arizona Cardinals (5-11) - Robert Quinn (OLB/North Carolina)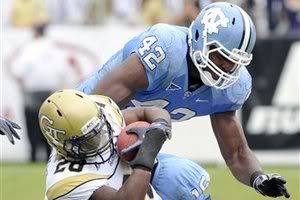 Arizona needs to generate a pass rush defense that was vacated by the departure of Karlos Dansby.
Quinn is a pass rushing outside linebacker who can also play defensive end and will be able to fill this role for the team.
Julio Jones could also be looked hard at in this spot. The lack of another elite receiver across from Larry Fitzgerald and the lack of consistency at quarterback led to Fitzgerald's numbers taking a hit.
Quarterback will not be the pick here. Ken Wisenhunt is on the hot seat right now and it makes no sense for a man who's job is on the line to trust his team on the arm of a rookie.
6. Cleveland Browns (5-11) - Marcell Dareus (DT/Alabama)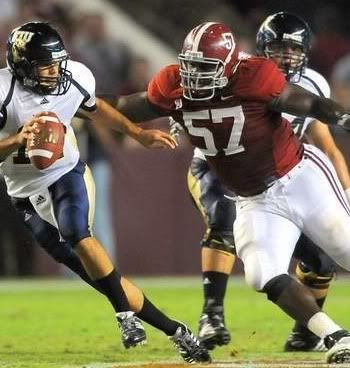 Cleveland needs to address their front seven, which has never been great since the team rejoined the NFL in 1999.
Dareus has been mocked by nearly every team to the Denver Broncos, but I am still a bit of a skeptic. Regardless, Dareus is the best defensive tackle available and could also line up as a defensive end in a 3-4 scheme.
Julio Jones could also bee looked at here. Cleveland would love to give Colt McCoy a reliable weapon.
7. San Francisco 49ers (6-10) - Blaine Gabbert (QB/Missouri)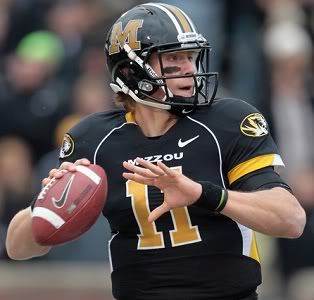 Jim Harbaugh has mentioned that he likes what he has seen out of Alex Smith, which has caused 49ers fans to groan, but I feel Harbaugh is only saying that so that he has more value when he gets traded.
That being said, expect San Francisco to look into quarterback early in this draft. The team is desperate for a franchise quarterback and Gabbert seems to be able to drop back down to here now.
Pricne Amukamara is also an option here, but I think the 49ers are too focused on fixing their offensive woes.
8. Tennessee Titans (6-10) - Nick Fairley (DT/Auburn)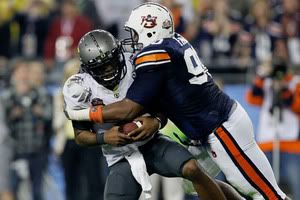 Tennessee is currently in rebuilding mode so there are needs all across the board. If Fairley is available, the Titans will definitely take him. Tennessee has lacked a true run-stuffing tackle since Albert Haynesworth left the team. There were rumors that Tennessee would trade with Washington to bring back Haynesworth, but his old defensive coordinator, Jim Schwartz, is in Detroit and former head coach Jeff Fisher is gone, consider that trade dead.
The Titans have a penchant for being a dirty team, which shouldn't be a problem for Fairley, who was dubbed a dirty player by many before the National Championship where he proved he is.
9. Dallas Cowboys (6-10) - Prince Amukamara (CB/Nebraska)
Terrence Newman just turned 31 and is on the downside of his career. He will most likely become a safety soon. Mike Jenkins looked like a junior varsity player last year as he was not only numerously torched, he was targeted on nearly every pass play last year. Dallas needs to fix this.
While Patrick Peterson is the best cornerback available, Prince Amukamara is not that far behind him.
Dallas also needs an offensive lineman, but Jerry Jones has never spent a top pick, let alone a top 10 pick, on an offensive lineman. I would be surprised if that trend changes now.
10. Washington Redskins (6-10) - Julio Jones (WR/Alabama)
One of the reasons why Donovan McNabb struggled this year is because he has no weapons and an ineffective Clinton Portis to work with. Regardless, he won't be there next year.
A new weapon for the team, however, will be.
Teams fell in love with Jones' toughness during the season when he played despite a broken hand and ran a 4.3 40-yard dash at the combine, despite having a broken foot.
11. Houston Texans (6-10) - Aldon Smith (DE/Missouri)
Houston will draft defensively this year, specifically on personnel who can fit their new 3-4 defense and players who can put pressure on the quarterback.
The Texans pass defense last year was atrocious and one reason why is because they had trouble getting to the quarterback. Brian Cushing regressed and was playing inside linebacker last season, allowing teams to double team Mario Williams.
Like Jason-Pierre Paul last season, Aldon Smith has a lot of upside which will make him a top-15 pick in the draft. Smith missed a big chunk of last season with injuries.
12. Minnesota Vikings (6-10) - Jake Locker (QB/Washington)
Locker-to-Minnesota has gained a lot of steam lately and it seems more and more realistic for the Vikings to draft him in this spot. Minnesota needs a new franchise player and they feel Locker has what it takes to do the job.
Locker missed out on a lot of money by staying in school and if he is not taken here, he may fall out of the first round. The Vikings could also look at taking Da'Quan Bowers or Tyron Smith with this pick.
13. Detroit Lions (6-10) - Tyron Smith (OT/USC)
The Lions are finally admitting they have a problem at the tackle position and before Matt Stafford ends up in a wheelchair they need to fix it.
Tyron Smith can immediately play left tackle and Jeff Backus will be able to slide in at guard, a position he is better suited for.
Detroit may also look at Da'Quan Bowers to take the pressure off of Ndamukong Suh. If Prince Amukamara is available here, he will be the pick.
14. St. Louis Rams (7-9) - Corey Liuget (DT/Illinois)
The Rams would love to take Julio Jones, but unless they trade up that isn't happening.
Multiple reports have pegged the Rams looking at Corey Liuget as their second-option, however, and he will easily be available here.
After Chris Long finally posted a breakout season last year, but St. Louis is a little toothless after that. Liuget is a run-stuffing tackle who will be an immediate starter on this team.
15. Miami Dolphins (7-9) - Da'Quan Bowers (DE/Clemson)
Mark Ingram may fall out of the first round now due to his bad knee. If The Dolphins are truly scared of that then their options will become to either trade out of the first round or work on their pass rush.
Bowers has dropped due to the overwhelming amount of question marks about him frin his knee problems to his one year of productivity. Regardless, Bowers had a monster campaign last year and led the nation in sacks.
16. Jacksonville Jaguars (8-8) - Ryan Kerrigan (DE/Purdue)
Jacksonville was hoping Aaron Kampman would revive his career in Jacksonville, instead he tore the ACL in his other knee.
That being said, Jacksonville is a team that believes they should be on Indy's level and will therefore continue to generate a pass rush to stop the Colts.
Kerrigan was an academic All-American and a team leader for Purdue. He has no character issues and has a non-stop motor.
17. New England Patriots (14-2) - Cameron Jordan (DE/Calfironia)
The Patriots acquired this pick via the Richard Seymour trade, another reason why Oakland should be banned from trading with New England.
New England needs to address their defense and what better way to do that than replacing Richard Seymour with the pick you received to give him up?
The Patriots have had their eye on Jordan and if he lasts this long, they will most likely take him. Otherwise, expect New England to trade this pick.
18. San Diego Chargers (9-7) - Cameron Heyward (DE/Ohio State)
The Chargers have lacked a pass rush since Shawne Merriman became injury-riddled. They drafted Larry English as his replacement, but he hasn't been impressive so far.
Heyward will line up as a defensive end in San Diego's system and has been a key to the Buckeye's pass rush for three years.
19. New York Giants (10-6) - Anthony Castonzo (OT/Boston College)
The Giants have two needs entering this draft, the offensive line and linebacker. Anthony Castonzo is the best player available which satisfies their needs.
New York's offensive line is getting older and was hit with injuries last year. One of the reasons the Giants rarely find themselves picking in the top-20 is due to their offensive line, which is always amongst the league's best.
20. Tampa Bay Buccaneers (10-6) - J.J. Watt (DE/Wisconsin)
Tampa Bay wants to continue to bring a young, healthy pass rush up fron that can harass Drew Brees and Matt Ryan for years.
Watt played tackle in college, but has a non-stop motor and a nose for the quarterback. He will excel in the NFL.
21. Kansas City Chiefs (10-6) - Akeem Ayers (OLB/UCLA)
Kansas City doesn't have much of a pass rush across from Tamba Hali and they need to take care of this.
Ayers is a great fit for the Chiefs, a team captain at UCLA and good against both the run and pass.
22. Indianapolis Colts (10-6) - Derek Sherrod (OT/Mississippi State)
Indy's line is getting old and the Colts will look to draft here to prolong Peyton Manning's career.
23. Philadelphia Eagles (10-6) - Gabe Carimi (OT/Wisconsin)
It's no secret that the Eagles are looking to protect Michael Vick, who has only played one full season in his career.
Vick found himself running more than he needed to last season due to the fact that his offensive line just could protect him long enough.
Carimi can be the cornerstone of the Eagles offensive line.
24. New Orleans Saints (11-5) Muhammad Wilkerson (DT/Temple)
Don't think that just because the Saints drafted Shaun Rodgers last year that they are set on the defensive line.
Rodgers is 31 and will not be an every down tackle. Wilkerson is versatile enough to play end or tackle and will line up very well next to Will Smith.
25. Seattle Seahawks (7-9) - Mike Pouncey (G/Florida)
Seattle needs to improve on their interior offensive line, along with their secondary or quarterback.
Pouncey is the best player available that fits the needs of Seattle. Many teams will take a hard look at Pouncey, who's twin brother, Maurkice, was named to the Pro Bowl in his rookie year.
26. Baltimore Ravens (12-4) - Jimmy Smith (CB/Colorado)
Before last season began, there were concerns about the Ravens secondary. The unit played better than they were expected to, but they still need to improve.
Smith has been flying up people charts, but character concerns will drop him into a late first-round pick.
27. Atlanta Falcons (13-3) - Torrey Smith (WR/Maryland)
Atlanta needs another weapon for Matt Ryan otherwise teams will be loading on Roddy White.
Torrey Smith looks great at the combine and is sliding up the mock boards.
28. New England Patriots (14-2) Mark Ingram (RB/Alabama)
Surely, BenJarvus Green-Ellis and Danny Woodhead aren't long-term answers in New England.
Ingram has scared a few teams with his knee problems, but New England is surely to bite on this pick. Ingram also won't receive an overload of carries with the Patriots, which will help his knee for now.
29. Chicago Bears (11-5) - Nate Solder (OT/Colorado)
The Bears offensive line is horrendous. Chris Williams has not played to his abilities and Jay Cutler has been running for his life all year.
Solder has taken a bit of a hit in his draft stock, but will still be taken in the first round, most likely between 21-30. The Bears desperately need to upgrade their offensive line of Cutler will be out of the league.
30. New York Jets (11-5) Adrian Clayborn (DE/Iowa)
The Jets struggled to generate a pass rush when they weren't blitzing and a lot of teams were able to figure out their scheme late in the year.
Clayborn has some character concerns, but the Jets track record shows they don't seem to care too much about that.
31. Pittsburgh Steelers (12-4) - Phil Taylor (NT/Baylor)
Casey Hampton is going to be 34 on opening day and has seen a significant cut in playing time. Pittsburgh needs to draft his heir and groom him.
32. Green Bay Packers (10-6) Justin Houston (OLB/Georgia)
Houston is versatile enough to play either end or linebacker and will be a big contributor to the Packers, who's linebacker core can resemble the Steelers if Houston is added to their squad.