Updated 4/21
1. St. Louis Rams: Sam Bradford (QB/Oklahoma)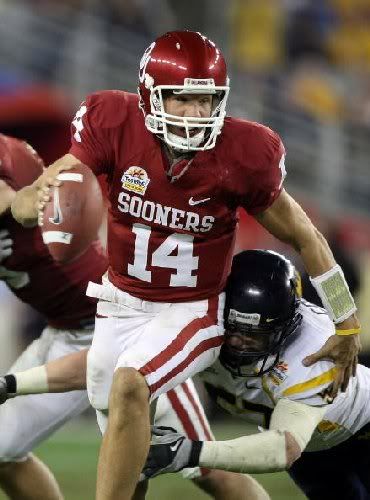 The Rams need help everywhere and Ndamukong Suh is the most regarded player in this draft. However, this franchise needs a Quarterback of the future and they have missed this opportunity repeatedly in the past. In 2005, they missed out on an opportunity to draft Aaron Rodgers, in 2006, the Rams traded away their draft pick to Denver, who eventually took Jay Cutler. The Rams used their pick on Tye Hill, who is now on the Falcons. In 2007, the Rams picked DT Adam Carricker over Brady Quinn (Ok, maybe this was a better choice.) Two years ago, the Rams missed out on Matt Ryan, and last season the Rams failed to draft Mark Sanchez. Minus Quinn, all of these players are current cornerstones for their teams (Cutler was traded last season to Chicago.)
Many draft analysts are picking Suh, but teams just simply don't pay th high price for a top draft pick on a DT, especially when they desperately need a QB. Sam Bradford also should not be the top QB. Jimmy Clausen is the most experienced QB in a pro-offense. Bradford is coming off of two shoulder injuries in the same season, doesn't possess the arm Clausen has and is inexperienced in handling pressure situations. The Sooners' shotgun offense failed to give Bradford any opportunity to be exposed to pressure and his OL was riddled with stars including two potential cornerstone OTs
2. Detroit Lions- Russell Okung (OT/Oklahoma State)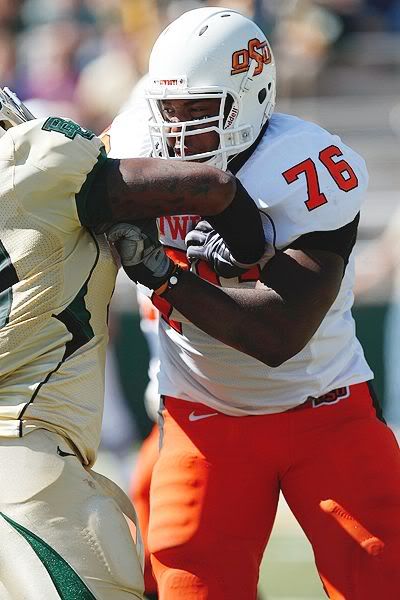 I've had Detroit drafting Ndamukong Suh for as long as I can remember, however, Detroit recently traded with Cleveland for DT Corey Williams, so it is time to address Detroit's next big need, OT.
They drafted Gosder Cherilus two seasons ago, however, he is a better fit at RT, Okung will block the blind side for QB Matthew Stafford, which Detroit showed the needed last season after the beating he took, which included shoulder and knee injuries as well as a season ending on injured reserve.
3. Tampa Bay Buccaneers- Ndamukong Suh (DT/Nebraska)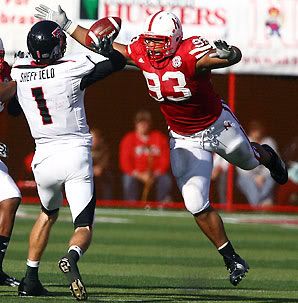 The Big XII conference comes away with the first three selections in the NFL Draft as Tampa Bay selects the most talented player on board. Suh is an absolute monsters and many Texas fans are still trying to erase the Big XII title game from their memory when Suh tore apart Texas' star OL. The Bucs have not had a star DT since Warren Sapp left the team, and Suh could become a star in a division which includes Drew Brees at QB.
4. Washington Redskins- Brian Bulaga (OT/Iowa)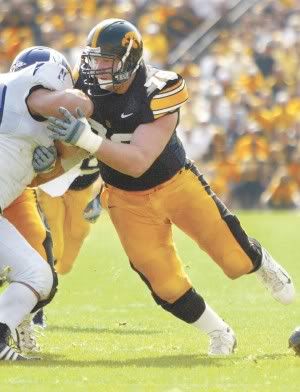 Washington has acquired Donovan McNabb from division rivals Philadelphia, now they need to improve their horrific offensive line to protect their new franchise quarterback. Bulaga if a mauler who will be able to handle the responsibilities of a RT while blocking Osi Umenyiora, Justin Tuck and DeMarcus Ware in a sack-happy division.
5. Kansas City Chiefs- Bruce Campbell (OT/Maryland)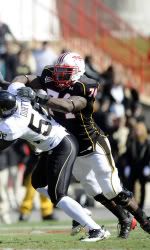 Kansas City invested $63 million into QB Matt Cassel. That money will produce nothing if the team can not protect him. Campbell is just a notch below Bulaga and will immediately improve the Chiefs.
6. Seattle Seahawks- Gerald McCoy (DT/Oklahoma)
Seattle possesses two first-round draft choices, and in a deep talent pool at tackle, they can pick elsewhere with their early pick. Many analysts, including Todd McShay, have McCoy rated as the top DT of the draft. McCoy can stop the run as well as get a sack, helping open space up for Seattle's linebacking core.
7. Cleveland Browns- Eric Berry (S/Tennessee)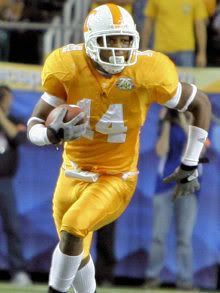 Personally, I don't believe a safety is worth a top-10 pick, however, he is the most talented player on the board and Cleveland has seen the impact Ed Reed, who many people compare Berry to, has had in Baltimore and could consider the Tennessee product.
8. Oakland Raiders- Trent Williams (OT/Oklahoma)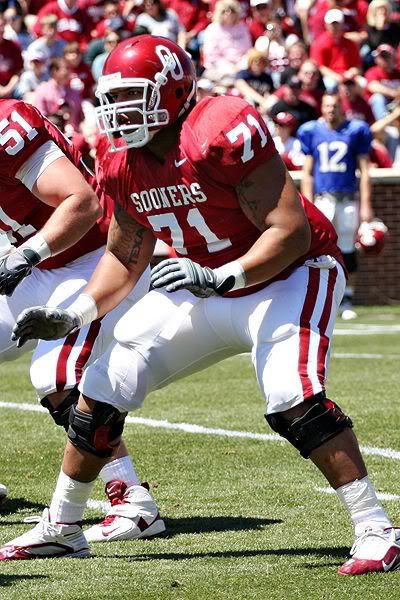 Who knows who Oakland is looking at? Taylor Mays would be the most predictable, but Al Davis has a lot of talent built at DB and have other needs elsewhere including protecting their QB, whoever that may be. Trent Williams was a stud for Oklahoma as he protected Sam Bradford and Landry Jones against Sergio Kindle, Brian Orapko and several other star Defensive Ends in the Big XII.
9. Buffalo Bills-Jimmy Clausen (QB/Notre Dame)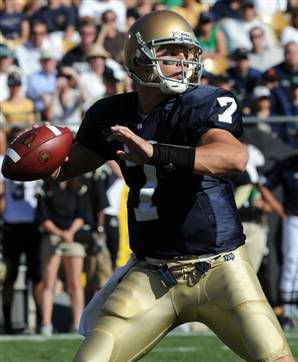 If Ralph Wilson wants to see his Bills make the Super Bowl before he dies, they need to get rid of Ryan Fitzpatrick and Trent Edwards. Clausen is the drafts top QB and the most pro-ready after being developed by Charlie Weis.
10. Jacksonville Jaguars-Derrick Morgan (DE/Georgia Tech)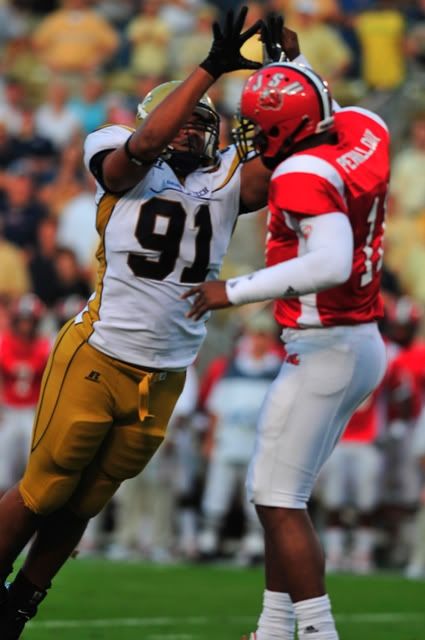 Jacksonville has too many problems to consider Tebow with the tenth overall pick. If they want the Jacksonville native at QB, they'll need to trade away this pick and get a pick in the second round (New England has their pick) Derrick Morgan is the best DE on this board by far, despite the talent available. Jacksonville, however, can not afford top 10 player money here. Expect a trade from Denver, or even the Giants, who both have eyes on Rolando McClain
11. Denver Broncos-Dan Williams (DT/Tennessee)
Surely Devner doesn't see Jamal Williams as the long-term solution to NT as they transition to a 3-4 defense. Jamal Williams will stay for a season or two to groom the younger Dan Williams into a star
12. Miami Dolphins-Jason Pierre-Paul (DE/South Florida)
Pierre-Paul is easily the most overrated player in this draft. He has little experience, but is highly touted due to great workout warrior abilities and a large upside. I wouldn't be surprised if Oakland targeted him. Regardless, Miami just lost Jason Taylor to division rival Jets and need to upgrade quickly at DE, Pierre-Paul can do that.
13. San Francisco 49ers- Anthony Davis (OT/Rutgers)
Now that Alex Smith is named the starter, the teams goal is to make sure he doesn't take a beating of David Carr proportions. Davis will immediately fill in as San Francisco's franchise OT.
14. Seattle Seahawks-Dez Bryant (WR/Oklahoma State)
Seattle is desperate to have top top receiver. T.J. Houshmanzadeh was unable to do it on his own last year. Bryant is very similar to Houshmanzadeh's former college and pro teammate, Chad Ochocinco.
15. New York Giants-Rolando McClain (MLB/Alabama)
Giants get what they wish in McClain, who will fill the hole left by Antonio Pierce. McClain is the best linebacker on the board with a great frame and a sure-tackler.
16. Tennessee Titans- Joe Haden (CB/Florida)
Tennessee needs help at literally every defensive position except safety and defensive tackle. There are plenty of options here as they rebuild the defense, including Sergio Kindle, Sean Weatherspoon, Brandon Graham or Kyle Wilson, but Joe Haden is the best cornerback on the board and will immediately start on the Titans, who are replacing both starting cornerbacks from last season.
17. San Francisco 49ers-Sean Weatherspoon (OLB/Missouri)
Te 49ers continue to build their team by adding a stud outside linebacker. Weatherspoon is a physical linebacker with great coverage ability. If CJ Spiller is available here, don't be surprised if San Francisco takes him, but I think that the team will continue drafting for their needs.
18. Pittsburgh Steelers- Mike Iupati (G/Idaho)
I had Pittsburgh drafting S Earl Thomas, but Ryan Clark has resigned, to fixing the OL is the next priority. Iupati is the top Guard in the draft, and could help bring back the smashmouth football Pittsburgh loves to play.
19. Atlanta Falcons-Brandon Graham (DE/Michigan)
Atlanta needs to get to the quarterback in order to improve their pass defense, which was downright awful last season. Graham will be an immediate contributor to Atlanta as they try to dethrone the Saints next season.
20. Houston Texans-C.J. Spiller (RB/Clemson)
Houston could have been a perennial playoff team last season if they had a running game. Slatton exhibited a sophomore slump which easily cost the team at least 3 games. Spiller is a home run hitter who can break open any game.
21. Cincinnati Bengals-Taylor Mays (S/USC)
Mays is an athletic freak, but terrible in coverage. That isn't necessarily a bad thing for the Bengals, however, who host the best CB duo in the NFL, which will allow Mays to roam free and do what he does best, hit people.
22. New England Patriots- Jared Odrick (DT/Penn State)
Now that Torry Holt has been signed, the Patriots can address needs elsewhere. Jared Odrick is a versatile defensive lineman, witht he ability to play both end and tackle, just like Richard Seymour.
23. Green Bay Packers-Charles Brown (OT/USC)
If Green Bay wants to beat Brett Favre and the Vikings, they need to protect Aaron Rodgers, who was abused last year by Jared Allen. Green Bay has already lost on OT to free agency and the team needs to upgrade on an aging OL.
24. Philadelphia Eagles- Kyle Wilson (CB/Boise State)
Philadelphia just traded away CB Sheldon Brown to Cleveland, leaving a hold across Asante Samuel. Kyle Wilson is a stud CB who can also return punts and kickoffs, easing the responsiblities of WR DeSean Jackson
25. Baltimore Ravens- Jermaine Gresham (TE/Oklahoma)
Baltimore has spent this off-season upgrading a weak receiving core for QB Joe Flacco. Gresham will revive the TE position in Baltimore, which is known for having talent at that position. Gresham is coming off knee surgery, but showed no signs of rust at the combine.
26. Arizona Cardinals- Sergio Kindle (OLB/Texas)
Arizona lost star defensive player Karlos Dansby to the Dolphins and quickly need to replace him. Kindle can play both end and linebacker and was a sack machine in Texas.
27. Dallas Cowboys-Earl Thomas (S/Texas)
Thomas slips down due to all the trading and signing of safeties in free agency. Thomas has the skills that Berry has, just not the hype.
28. San Diego Chargers-Ryan Matthews (RB/Fresno State)
San Diego ended the Tomlinson era when the released the team's all-time leading rusher in February. Darren Sproles, however, is not able to handle a one-man show. Matthews is a fast, powerful running back who can split time with Sproles.
29. New York Jets-Everson Griffen (DE/USC)
The Jets have little need son their team, especially after acquiring Santonio Holmes. Graham will improve the Jets DL and make their already feared defense even more feared.
30. Minnesota Vikings- Brian Price (DT/UCLA)
Pat Williams is 37 and uncertain as to whether or not he will return this season. No problem now for Minnesota who drafts Price and maintains their nasty run defense starting with their front four.
31. Indianapolis Colts-Maurkice Poncey (C/Florida)
With Jeff Saturday aging, Poncey will play a pivotal role in the Colts offense. Poncey is versatile enough to play both guard and center, and could immediately start at thr former until Saturday retires.
32. New Orleans Saints-Jerry Hughes (OLB/TCU)
The Saints lostt starting OLB Scott Fujita to Cleveland in free agency, and in order to be successful in the NFC, you need to rush the QB. Hughes can play DE or OLB, both are holes for New Orleans